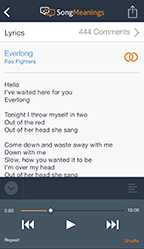 We think it's the next step in growing and nurturing the SongMeanings community.
New York, NY (PRWEB) March 04, 2015
Available for download now in the Apple App store, the SongMeanings app brings your music library together with the breadth and depth of the SongMeanings lyric & meanings database. It seamlessly allows users to import their music library, listen, and look up the playing song's lyrics or any other they may be interested in.
From there, the user can dive further into other users interpretations of the song, the memories it evokes for others, or the artists true intention in writing it. Even while listening to a song, the app can browse through over one million lyrics and almost two million comments available via the SongMeanings database. A logged in user can post their own thoughts as well as rate the song and comments from other users. This app brings music, SongMeanings lyrics, and all of those interpretations on the go wherever a user may listen to music.
"We think it's the next step in growing and nurturing the SongMeanings community. It's obvious that more and more users are on the go. This was the natural evolution for our company. Combining the music player with our deep lyric and meanings database was an absolute no-brainer," Michael Schiano, co-founder and operator, said.
"It was important for us to release an app to meet the ever growing mobile demand. That's for sure," Brian Adams, co-founder added. "But it was even more important to help bring the ease of use of the player into the app and make discovering new music that much easier."
The app is available for iOS 7 and above and is a free download from the Apple App Store.
SongMeanings was created in 1999 by Michael Schiano and Brian Adams. They continue to push SM to be a social music community centered around what music means to their diverse user base.