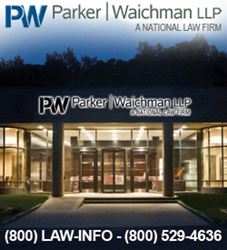 We are pleased that this potentially widespread and dangerous problem with Lumber Liquidators flooring has reached national media and U.S. governmental attention
Port Washington, New York (PRWEB) March 04, 2015
Parker Waichman LLP, a national law firm dedicated to protecting the rights of consumers affected by defective products, announces that the law firm filed the first amended class action complaint over Lumber Liquidators on February 13, 2015. The case is Dana Gold, Tammy Emery, Edwin Mendez, and Christopher Massoro on behalf of themselves and all others similarly situated, v. Lumber Liquidators, Inc., a Delaware Corporation, and Does 1 through 200, inclusive, Case No. 14-Cv-05373, In The United States District Court for the Northern District of a California.
Parker Waichman LLP is actively involved in the Lumber Liquidators action and has filed a class action on behalf of numerous individuals who allege various defects and damages with the flooring product.
According to the class action lawsuit, consumers have complained that their Lumber Liquidators flooring is allegedly defective and may prematurely crack, split, warp, and shrink sooner than claimed in the product's warranty.
Parker Waichman urges all persons who purchased Lumber Liquidators' flooring in the United States that is showing signs of potential defects to contact the firm for more information about their potential legal rights.
Plaintiffs allege that Lumber Liquidators concealed from and/or failed to disclose the defective nature of the flooring, according to the class action lawsuit and also allege that Lumber Liquidators flooring installed in their homes have a variety of defects and issues. In every case, allegations include that "the product continues to manifest defects to the present day," according to class action lawsuit:
According to the class action lawsuit, one consumer alleges that, "within weeks of installation" before her house became occupied, early defects were seen, including the Lumber Liquidators flooring's propensity to scratch and splinter. As of September 4, 2014, one year after installation, the product continues to warp, split, buckle, and shrink.
Another plaintiff alleges, according to the class action lawsuit that, within a few weeks following installation, the Lumber Liquidators flooring began "delaminating, warping, splitting, shrinking, and scratching, and generally deteriorating in various places."
Also according to the class action lawsuit, another homeowner purchased some 1,434 square feet of Lumber Liquidators flooring between August and September 2014. Installation, costing over $9,000.00, was completed in mid-October 2014. The claimant alleges becoming sick from odors emanating from the flooring and that Lumber Liquidators-provided glue did not provide appropriate adhesion. After being advised that Lumber Liquidators denied responsibility for the issue, the homeowner noticed the flooring was buckling and shrinking in a number of areas.
Another claimant purchased 796 square feet of Lumber Liquidators flooring and spent an additional installation amount of $4,689, according to the class action lawsuit. The homeowner noticed, upon installation, that the flooring was "cracking delaminating, gapping, and scratching in various places."
The class action lawsuit documentation also alleges that Lumber Liquidators' representations and warranties are not true and that Lumber Liquidators was aware that its product did not conform to its representations. Allegations also include that Lumber Liquidators continues to advertise and sell the allegedly defective flooring that is susceptible to an array of defects; would not otherwise perform as represented; and would fail prematurely, before its 30-year warranted life.
Plaintiffs and the class representatives also allege, according to the lawsuit, having suffered damages to their flooring and other structures in their homes and that these damages will continue, potentially damaging other building elements; potentially causing continuing, progressive property damage; and potentially causing plaintiffs to spend thousands of dollars to either repair or replace the flooring well before the warranty lifespan.
"We are pleased that the class action lawsuit continues to progress and that class members are closer to potentially receiving benefits that would compensate them from alleged damages to their Lumber Liquidators flooring and their property," said Gary Falkowitz, Managing Attorney at Parker Waichman.
If you or someone you know purchased flooring manufactured by Lumber Liquidators, you may have valuable legal rights. Please visit the firm's Lumber Liquidators page, fill out our online form, or call our Lumber Liquidators Injury attorneys at 1-800-LAW-INFO (1-800-529-4636).