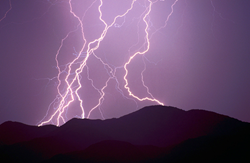 Lincoln, RI (PRWEB) March 03, 2015
Sunday, March 1, through Saturday, March 7, is National Severe Weather Preparedness Week. No matter the time of year, every region of the country is at risk for some type of severe weather.
That's why Amica Insurance is sharing the following tips from the Centers for Disease Control and Prevention and Ready.gov to help keep you safe in the event of severe weather:
Winter storms

Keep dry: Change wet clothing frequently to prevent loss of body heat. Wear warm, loose-fitting, lightweight clothing in several layers.
Conserve heat: Avoid opening doors or windows. Close off unattended rooms, stuff towels under doors, and cover windows at night.
Lightning
Remember the 30/30 rule: Head indoors if you can't count to 30 between seeing lightning and hearing thunder. Wait 30 minutes after the storm before leaving shelter.
Unplug electronics: Power surges from lightning can cause serious damage. Avoid contact during the storm.
Tornadoes
Know the warning signs: If you notice a greenish sky, large hail, a low-hanging, rotating cloud or hear a roar like a large train, seek immediate shelter.
Secure young children: Place infants and young children in car seats, even when indoors.
Wildfires
Cover your vents: Keep vents covered with mesh to prevent sparks and embers from entering the home.
Have an escape plan: Park your vehicle facing the direction of escape, and make sure doors and windows are shut to prevent smoke and embers from entering the vehicle.
Hurricanes
Bring loose items inside: Outdoor furniture, decorations, grills and garbage cans should all be taken indoors.
Have plenty of water: Fill all empty containers with drinking water, as well as sinks and bathtubs for washing.
To learn more about severe weather, visit the Amica Storm Center.
About Amica Insurance
Amica Mutual Insurance Co., the nation's oldest mutual insurer of automobiles, was founded in 1907. The company, based in Lincoln, Rhode Island, is a national writer of auto, home, marine and umbrella insurance. Life coverage is available through Amica Life Insurance Company, a wholly owned subsidiary. Amica employs more than 3,400 people in 44 offices across the country. For more information, visit Amica.com.
CONTACT: Vince Burks, Corporate Communications, 50 Amica Way, Lincoln, RI 02865-1155, 800-652-6422, ext. 24563
Twitter: Amica
Facebook: Amica Mutual Insurance Co.