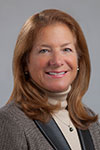 Ms. Long will bring fresh insights to our Board based on her extensive experience in a community that is so vital to our national security.
Falls Church, VA (PRWEB) March 17, 2015
Noblis, Inc., a leading provider of science, technology, and strategy services to the federal government, is pleased to announce that Letitia A. Long has joined our Board of Trustees.
"I am thrilled to welcome Ms. Long to the Noblis Board of Trustees," said The Honorable Marion C. Blakey, Chairman, Noblis Board of Trustees and President and CEO of Aerospace Industries Association. "As Noblis continues to expand its National Security and Intelligence mission, her knowledge, perspective, and passion will be invaluable."
Ms. Long was the fifth Director of the National Geospatial-Intelligence Agency (NGA), where she culminated a career that spanned all aspects of organizational leadership, business functions, and global operations. She has worked extensively with Congress, international leaders, and the U.S. business community to advance national security. Ms. Long led and directed NGA under the authorities of the Secretary of Defense and the Director of National Intelligence from August 2010 until October 2014. From 2006 until 2010, Ms. Long served as the Deputy Director of the Defense Intelligence Agency. She served as the Deputy Director of Naval Intelligence from 2000 to 2003 and next as the first Deputy Undersecretary of Defense for Intelligence (Policy, Requirements and Resources). In 1998, Ms. Long was assigned as the Executive Director for Intelligence Community Affairs for the Director of Central Intelligence, responsible for community-wide policy formulation, resource planning, and program assessment and evaluation for all national intelligence programs.
Amr ElSawy, Noblis' President and Chief Executive Officer, welcomes Ms. Long to Noblis. "Tish will bring fresh insights to our Board based on her extensive experience in a community that is so vital to our national security. I look forward to a long and productive partnership as we tackle the multiple intelligence challenges that face our nation—and our world—today."
"Tish Long has devoted her entire professional career to public service in national security and is one of our nation's foremost leaders across multiple intelligence disciplines," said L. Roger Mason, Jr., Ph.D., Noblis Senior Vice President for National Security and Intelligence. "Tish's participation on the Noblis Board will help guide our national security capabilities and elevate our ability to better serve the intelligence community's mission."
Ms. Long has received numerous professional awards, including the Department of Defense Medal for Distinguished Civilian Service, and is widely recognized for her achievements in the area of intelligence research and development, particularly with information systems.
About Noblis
Noblis is a nonprofit science, technology, and strategy organization that brings the best of scientific thought, management, and engineering expertise in an environment of independence and objectivity. We work with a wide range of government and industry clients in the areas of national security, intelligence, transportation, healthcare, environmental sustainability, and enterprise engineering. Together with our wholly owned subsidiaries, Noblis ESI and Noblis NSP, we tackle the nation's toughest problems and support our clients' most critical missions.