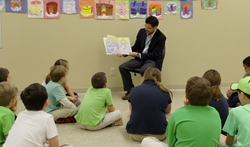 Gulf Shores, AL (PRWEB) March 03, 2015
Little ears were perked and fidgety bodies were still Monday as Robert Mayes, president of Columbia Southern University (CSU), read to 17 youngsters at South Baldwin Christian Academy in Gulf Shores, Ala., in recognition of Read Across America Day and Dr. Seuss' birthday.
"It was a lot of fun," said Mayes, who read "Oh, The Places You'll Go" by Seuss. "It's always good to take a step back and do some simpler things like reading."
March 2 is Read Across America Day and Mayes enjoyed reading to students in the third and fourth grades. "It was great to see how much they understood the concepts in the book such as the challenges they may face in life, that they'll have good days and bad days…"
SBCA Headmaster Dawn Cranston was excited to have Mayes read one of her favorite Seuss books to the children, many who dressed in green in honor of the classic, "Green Eggs and Ham."
"Research shows that one of the biggest indicators of academic success is reading and being read to," she said, adding that SBCA students will continue to recognize Read Across America this week. The academy, which educates kindergarten through 12th grade, will encourage students to participate in crafts, cooking activities and dress as their favorite characters.
"Read Across America is a great way to promote the importance of reading," said Mayes. "Reading is at the heart of succeeding in life and opening doors."
Established in 1993, CSU was created to help individuals with hectic work and family commitments pursue their educational dreams. CSU offers online associate, bachelor's and master's degree programs in various fields including criminal justice, fire science, occupational safety and health and business administration.
If you would like learn more about CSU, please visit http://www.ColumbiaSouthern.edu.
SBCA provides academic excellence in a Christian environment for families in Foley, Gulf Shores, Orange Beach and surrounding coastal areas. The academy conducts classes from 8 a.m. to 1 p.m. weekdays and features traditional and hybrid educational classes. For more information, call 251-967-2688 or email info(at)southbaldwinca(dot)org or visit http://www.southbaldwinca.org.