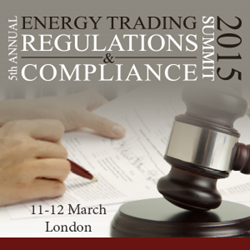 It's an IRN Summit!
(PRWEB UK) 4 March 2015
Representatives from the National and European Regulators will join Energy Trading Companies on 11-12 March in London to thoroughly examine the main regulations affecting energy trading entities, including REMIT, EMIR, MiFID II, Dodd Frank, CRD IV and MAD. The fifth edition of the must-attend Summit will begin on the first day with an update from the regulators, with presentations led by:

Paul Willis, Technical Specialist – Commodities / Derivative Markets / Markets Division, FCA
Dr. Thomas Müller, Head of the Task Force for the Market Transparency Unit for Wholesale Electricity and Gas Markets / REMIT Enforcement, Bundesnetzagentur
Louise van Rensburg, Head of REMIT Implementation, Ofgem
Vincent Derbali, Commodity Advisor, AMF – Autorité des Marchés Financiers
Geoff Boon, Head of Energy Markets Governance & REMIT, E-Control
Daniela Kovářová, REMIT Department Manager, ERÚ - Czech Energy Regulatory Office
Dr. Cornelia Kawann, Head of Division Market Surveillance, Federal Electricity Commission (ElCom)
Other Speakers at the Summit include:
Peter Krusaa, Lead Regulatory Advisor - Regulatory Affairs, DONG Energy
Riccardo Rossi, Regulatory Affairs Manager, Gazprom Marketing & Trading
Dr David Beier, Financial Market Regulation, WINGAS
Gerd Stuhlmacher, Director of Legal and Compliance, E.ON Trading
Michael Parsons, Associate Counsel, Shell
Tine Bax, Market Regulation Officer, GDF Suez Energy Europe – EMT
Stephen Taylor, Legal Counsel, RWE Supply & Trading
Mathias Flecke, Legal Counsel, RWE Supply & Trading
Ivan Nappo, EU compliance Manager - ETM Platform, Cargill
The ETRC 2015 Summit is sponsored by the specialist in regulatory software solutions, Deutsche Börse Group - Impendium Systems; the London Stock Exchange Group's global hosted technology platform, UnaVista; the ESMA-registered European Markets Infrastructure Regulation (EMIR) Trade Repository, CME Group; the K3 integration platform specialist, BroadPeak; the European consulting firm, d-fine; the specialised and expert resource, ETR Advisory; and the provider of business and technology services and solutions, Sapient Global Markets.
More information about the Summit, Speakers and the Agenda, can be found on the website: http://www.etrcsummit.com