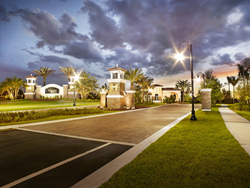 "For many developers, a luxurious home used to set their community apart...Discerning buyers today are asking 'What more do you have that says 'luxury' to me?' In the end, the real winner is the buyer." Ron Yuter with Ansca Homes
Delray Beach, Florida (PRWEB) March 05, 2015
Developers of 55-plus residential communities nationwide have introduced the latest luxurious amenities to attract a higher level of buyer. Features include finely detailed clubhouses, state-of-the-art fitness centers, even professional-caliber tennis courts and resort-style pool decks, like those that will be found with the opening of the Cabana Club Clubhouse this season at Ansca Homes' Villaggio Reserve community in Delray Beach, Florida.
Along with an array of upgraded homes, the latest developer innovations deliver an elevated living experience unheard of in previous destination-style communities.
"Today's 55-and-older home buyer expects the finest homes with the latest features, like granite countertops, upgraded appliances or fantastic floor plans and sight lines. Now, developers have to deliver all the trappings that bring resort-style living to life," said Ron Yuter, Senior Vice President of 55-plus home builder Ansca Homes in Boynton Beach, Florida. Luxury villa and single-family residences at its Villaggio Reserve community in Delray Beach range from the $290,000s through the $400,000s. "Such amenities once were only available in million-dollar homes. How, they're common across the spectrum of luxury developments."
When the Cabana Club clubhouse and "town square" opens next month, it will feature a host of popular amenities, including:

Onsite dining and active living. Clubhouses offer restaurants with table-side ordering and meals prepared by celebrated chefs and delivered by waiters. Social activities, entertainment and trips to area cultural venues are scheduled and overseen by trained social directors and event coordinators who create a sense of community.
Top caliber fitness facilities. Today's fitness center typically boasts thousands of dollars in state-of-the-art equipment, and saunas and massage and locker rooms typically only found in independent, private fitness clubs. Dedicated dance studios host yoga, Zumba and other exercise classes run by trained and certified instructors.
Professional-grade tennis courts. Tennis remains popular as a low-impact exercise among the 55-plus set. Tennis enthusiasts are discovering professional-grade complexes at modern communities. Courts are designed and constructed by industry-leading specialty contractors and feature subsurface drainage and irrigation, Har-Tru playing surfaces and custom lights, fences and walkways. Many offer pickle ball, the fast-paced, low-impact, small-court, tennis-style game sweeping the nation. Developers also are featuring fully-equipped pro shops staffed by trained crews.
Tropical trappings. Even clubhouse patio decks deliver an elevated experience. Pools vary from resort-style heated pools to lap pools and spas. Splash pools welcome the grandkids, who increasingly are welcome at 55-plus communities. To round out the tropical appeal, developers are investing thousands in lush foliage, mature trees and stately palms, as well as fountains and other water features.
In another emerging trend, such amenities increasingly are found in one centralized community location. This can help reduce membership and maintenance fees and encourage residents to gather in a "town square" that's a short walk, bike ride or drive from any home in the neighborhood.
"For many developers, a luxurious home used to set their community apart. Now, that's the baseline for entry. Discerning buyers today are asking 'What more do you have that says 'luxury' to me?'" said Yuter. "In the end, the real winner is the buyer."
About Villaggio Reserve: Built by Ansca Homes, Villaggio Reserve is a resort-style destination community in Delray Beach, Florida. Learn more at http://www.VillaggioReserve.com, or call today at (855) 230-0998. Media Contact: Jeff Zbar ~ 954-346-4393 or jeff(at)gotwords(dot)com.