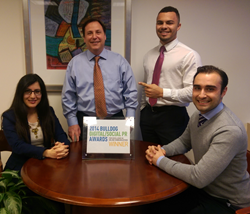 Chicago, Ill. (PRWEB) March 03, 2015
Alpaytac Marketing Communications/Public Relations is proud to announce its
2014 Bulldog Digital/Social PR Awards for Excellence in Online Communications Silver Award in the "Best Use of Digital/Social for a Travel/Hospitality Campaign" category for its work with Turkish Airlines, the sixth consecutive recognition for the PR agency on behalf of its work for the carrier.
The Bulldog Digital/Social PR Awards are among the top honors in the industry for digital and PR efforts, recognizing those with the ability to achieve visibility and influence opinion through online media, and showcase digital media savviness, cleverness and resourcefulness. Winners of the awards are organizations that made tremendous strides in creativity and originality, strategic brilliance, fast thinking and delivered extraordinary execution to achieve results in campaigns that took place between May 1, 2013 and June 30, 2014.
Alpaytac has been honored with awards for its branding, media relations and social media campaigns for the leading global airline. In addition to securing around one billion media impressions over the past three years, from June 2013 – June 2014, Alpaytac grew the Turkish Airlines USA Facebook following by 338.15 percent. This was achieved by strategically implementing an editorial and tactical calendar planning process designed to create engaging content focused on the consumer brand experience. To increase brand awareness and maintain a vibrant consumer experience, Alpaytac executed creative social media campaigns for six U.S. gateways, celebrated timely news/events and leveraged the airline's promotional deals, extensive flight map, must-see hub in Istanbul and Turkish Airlines' global brand ambassadors, Kobe Bryant and Lionel Messi.
"We are excited to share another award with the wonderful Turkish Airlines PR and social media teams," said Huma Gruaz, founder and CEO of Alpaytac. "The support and partnership of the airline has played a tremendous role helping us to achieve the results we are celebrating today."
Since working with Alpaytac, Turkish Airlines has expanded its U.S. market from four gateways to six and is preparing to launch its seventh gateway in San Francisco in April 2015. In 2014, Turkish Airlines carried 54.7 million passengers, a 13 percent increase compared with last year's 48.3 million. Currently, the airline has a fleet of 262 aircraft (passenger and cargo) flying to 264 cities around the world (compared to 241 a year ago), including 219 international and 45 domestic destinations.
Alpaytac's previous recognitions as a result of its work for Turkish Airlines include Honorable Mention in PR News' 2014 Digital PR Awards: Facebook Communications category; Bronze Level Winner for Best Travel, Hospitality & Destinations Campaign in the 2013 Bulldog Media Relations Award for Excellence in Media and Publicity Campaigns; Finalist for Branding in the 2013 PR News' Platinum Awards; Finalist for Branding in the 2013 PR News' Agency A-List Awards; and Honorable Mention for Best Branding Campaign in the 2013 PR Daily Awards.
Stories of all winners and their entries will be featured in the Digital/Social PR Hall of Fame online magazine. In addition, winning campaigns will be covered in Bulldog Reporter's Winning PR e-newsletter and feature column in Bulldog Reporter's Daily 'Dog, the industry's highest-circulation trade journal.
Alpaytac, which has steadily emerged as one of the top PR and social media agencies, winning more than 25 industry awards, celebrated its 10-year anniversary and the opening of its fourth office in Washington, D.C. this past year. With its seasoned PR and digital/social media experts and offices also in Chicago, New York and Los Angeles, Alpaytac serves clients from coast to coast in more than 16 industries, including travel, consumer products, housewares, consumer electronics, healthcare, fitness and B2B, delivering integrated strategic PR and social media campaigns that elevate brand awareness. In another testament to the agency's growing influence, Gruaz was also recently named as one of PR News' Top Women in PR for 2014.
"I'm enthusiastic about the opportunity to extend Alpaytac's capability to the nation's capital," said Rory Davenport, General Manager of the Washington, D.C. office. "I'm looking forward to working with my colleagues and our clients to develop public relations approaches that truly integrate the modern facets of communication and advocacy."
About Alpaytac and Huma Gruaz
Alpaytac's team of elite professionals applies its collective expertise in publicity, integrated marketing, social media marketing and digital marketing to a diverse set of clients in a wide variety of industries.
Born in Istanbul, and educated in Europe and America, Huma Gruaz is the founder and CEO of Alpaytac. Fluent in Turkish, English, French, and Dutch, she is a Magna Cum Laude graduate of Bryn Mawr College with a double major in Economics and Fine Arts, holding both an executive MBA from the Kellogg School of Management and a Fine Arts degree from the Willem De Kooning Academy in Rotterdam, Holland. Huma is also the recipient of PR News' 2010 Brand Marketer of the Year award. Under Huma's stewardship, Alpaytac has, in the span of just 10 years, garnered an impressive array of industry honors, including, for three consecutive years, the PR News Small Agency of the Year Honoree recognition, and the 2013 Bulldog Media Relations Gold Level Award. For more information, visit http://www.alpaytac.com.
###