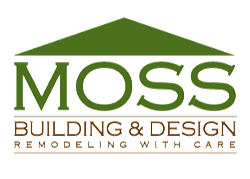 (PRWEB) March 04, 2015
Moss Building & Design, a home remodeling company in Chantilly, VA, will attend the Annual Arlington Home Show & Garden Expo at the Thomas Jefferson Community Center in Arlington, VA. The show takes place on Saturday, March 7th from 10 a.m. to 5 p.m.
For several years, MOSS has attended the Arlington show and is pleased once again to be a representative of remodeling in northern Virginia. Moss Building & Design remodels additions, kitchens, bathrooms and basements. MOSS' home services division, Moss Home Services, offers superior care in handyman services, plumbing, electrical, and exterior work including James Hardie installation.
MOSS will also present their "Patch It" HandyMOM101 workshop from 1 p.m.-2 p.m.on the main stage. This workshop will teach attendees how to make large and small drywall patches.
This workshop is one of the ways that MOSS has further interacted with the Northern VA community by empowering women to tackle smaller items on their "honey-do" lists.The workshop is a hands-on approach to teaching women the right DIY skills they need to tackle their home improvements. Attendees are invited to work alongside a MOSS professional and test their new skills.
Come visit MOSS at the Home Show this weekend at booth #325. The Arlington Home Show is located at the Thomas Jefferson Community Center, 3501 South 2nd Street, Arlington, VA 22204 which is off of South Glebe Road and Route 50.
Moss Building and Design continues to meet the remodeling demand in Northern Virginia from additions, kitchen and bathroom remodels and basement remodels; to their Moss Home Services division with handyman services and smaller renovations and repairs. Homeowners are encouraged to contact MOSS or visit the website at http://www.mossbuildinganddesign.com to learn more about MOSS' remodeling services or to request a free consultation.
About Moss Building & Design and Moss Home Services:
For home improvement in Northern Virginia, you can count on Moss Building & Design. Moss Building & Design and Moss Home Services are an award-winning, family-owned residential remodeling and home services company located in Chantilly, Virginia.
Since 2001, MOSS has established a reputation for excellence in remodeling additions, kitchens, bathrooms and basements and home services throughout Northern Virginia. Their customers see them as a trusted partner, and MOSS is very proud of their exceptional 70% repeat customer and referral rates. Moss Building & Design has won consumer awards from Angie's List and also has an A+ rating from the Better Business Bureau, as well as many industry building and design awards.