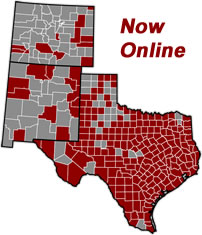 With our expanded coverage, TexasFile.com is the first website to simultaneously search almost every county courthouse in Texas with 1 click.
(PRWEB) March 09, 2015
After years of assisting law firm customers with their research needs, TexasFile is taking new steps to accommodate the needs of the legal community. A new statewide search feature on TexasFile.com provides a single point of entry to courthouse records from 240 counties in Texas, New Mexico and Colorado. This move will help expand coverage areas and simplify research tools for users of the site.
The Statewide research tool offers a glimpse of records from almost every county courthouse in Texas through a single click and provides a more complete picture of individual and business assets and liabilities. In short, this feature provides information in a few seconds that would have taken hours of individual searches previously. "While your client or adversary may live in San Antonio, their business and/or personal interests likely extend across several Texas counties, so searching your local courthouse is no longer adequate due diligence. But our statewide search helps you obtain a more complete profile in a few seconds without leaving your internet browser," says TexasFile President, Jason B. Smith.
Expanded coverage by TexasFile broadens client access to county records in the Texas panhandle, New Mexico, and Colorado. The expansion was a direct result of TexasFile's response to customer needs. "Attorneys working from downtown Houston or Dallas increasingly need access to county records stored in the most remote locations of Texas. Without TexasFile, law firms have to contract third parties to research and obtain crucial information, and the results are provided days, even weeks, later," says Mr. Smith.
In addition to giving clients expanded coverage, TexasFile is making it possible for law firms to allocate costs accurately and efficiently with a free three-prong system involving unique tracking IDs which allow expenses to be tracked to specific customers and projects, activity usage reports which are run directly from the website, and multiple-user management which allows a single user to manage billing and receipts for all of a firm's users through a single Master Account.
All of these features are readily available through TexasFile's website. Companies interested in more information or a free login should contact TexasFile directly at (214) 705-6400 or visit TexasFile.com.
About Texas File:
TexasFile LLC was started in 2005 by an independent title insurance agency based in Corpus Christi, Texas, and is now the most expansive county courthouse records provider in the state. Our parent company San Jacinto Title has been providing Texas land records research and title insurance for over 50 years. Several counties on http://www.texasfile.com are licensed title plants used to underwrite title insurance by major underwriters. For more information please visit http://www.texasfile.com. We may be contacted at (214) 705-6400 or via email at info(at)texasfile(dot)com.
Contact:
Jason B. Smith, President
TexasFile
520 Lawrence Street
Corpus Christi, Texas 78401
(214) 705-6400