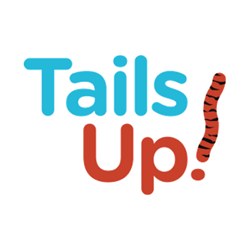 Silver Spring, MD (PRWEB) March 03, 2015
Most people have a pretty easy time identifying an animal when they see its face, but how about from behind? Now kids and parents will have their chance to test their animal identification skills by playing the new TailsUp! app game released on Tuesday by the Association of Zoos and Aquariums (AZA).
"TailsUp! is a free app game developed by AZA to help get to the bottom of animal extinction, pun intended," said Gregg Oosterbaan, a member of the AZA TailsUp! Creative Task Force, and Vice President, Technology Services, at the Columbus Zoo and Aquarium. "The mission is to guess the animal that is on your card and on your head using clues shouted or acted out by other players as quickly as possible, guessing as many as you can before the timer runs out. My kids have had a blast testing out TailsUp! through the beta phase and are very excited their friends can enjoy the game now, too."
The version released features over 180 unique animals, and additional animals will be added to the game in future releases.
Players start by selecting a category of animal from a variety of decks (Endangered, In the Water, Giants, and more) and then decide how challenging they would like the game to be. The most unique (and challenging) level queues up photos of animals from behind. If simple is more their speed, no if, ands, or butts – there are two easier levels: one being photos of animals with accompanying names and the other being just animal photos. Once a player has selected a category and level, they go wild guessing. At the end of each round, players will get an interesting factoid for each animal – all of which are easily shareable via their social media accounts.
"Play is a brilliant tool to help young people understand the natural world. Games like TailsUp! use children's inherent interest in animals to get them thinking about wildlife in a new way," said Nette Pletcher, Director of Conservation Education at AZA. "Then, when they visit a zoo or aquarium, they can make connections between the app content and what they see in real life. These experiences are crucial steps in developing citizens who care about animal conservation efforts."
Proceeds from in-app purchases of additional or customizable decks go toward AZA's animal conservation mission to assist with saving and protecting the most vulnerable wildlife species from extinction.
"Of course there is no substitute for visiting an AZA-accredited zoo or aquarium and seeing the animals in person, but when you can't get out, we hope you'll consider downloading and playing TailsUp!," said Jim Maddy, AZA President and CEO.
TailsUp! was developed by AZA in partnership with boutique digital agency, Little House. It was made possible by a grant from the Disney Worldwide Conservation Fund (DWCF) supporting programs and tools that help connect kids and families with nature. The app is now available to download for smartphones on the Apple App Store and on Google Play.
Links:
TailsUp!: http://www.tailsupapp.com
Apple: http://bit.ly/tailsupapp
Google: http://bit.ly/playtailsupandroid
About AZA
Founded in 1924, the Association of Zoos and Aquariums is a nonprofit organization dedicated to the advancement of zoos and aquariums in the areas of conservation, animal welfare, education, science, and recreation. AZA is the accrediting body for the top zoos and aquariums in the United States and seven other countries. Look for the AZA accreditation logo whenever you visit a zoo or aquarium as your assurance that you are supporting a facility dedicated to providing excellent care for animals, a great experience for you, and a better future for all living things. The AZA is a leader in saving species and your link to helping animals all over the world. To learn more, visit aza.org.
About Little House
Little House is a boutique, strategy-led digital agency based in New York City. We help brands – from Fortune 1000 companies to non-profits and startups— solve problems, bring ideas to market, and create digital products of substance. We're fascinated by digital innovation that makes life easier and the world smaller.