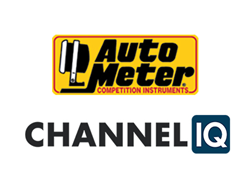 We are taking all of the steps necessary to ensure that the consumer can shop for our products with confidence regardless of where or how they choose to shop.
(PRWEB) March 04, 2015
Auto Meter Products, Inc., a leading manufacturer of specialty automotive products, announced today that they have chosen Channel IQ, the world's leading provider of online retail business intelligence, brand protection, where to buy, and channel management software applications, to help enforce their brand protection program which includes an expanded Minimum Advertised Price (MAP) policy. Channel IQ will be responsible for aggressively monitoring the advertised retail price for key Auto Meter products, and for identifying unauthorized sellers. Auto Meter believes that maintaining pricing integrity and ensuring proper consumer communication of unauthorized resellers of their product are critical factors in maintaining their position as a leader in the automotive marketplace.
By utilizing Channel IQ's platform, Auto Meter will gain valuable access and awareness into the pricing of their products across multiple online ecommerce sites and platforms. This insight will enable Auto Meter to successfully implement a key element of their brand protection and enhancement program. The goal of this program is to ensure a consistently positive consumer shopping experience for their enthusiast customers. Through this program Auto Meter is demonstrating their commitment to securing and supporting the growing online sales channel, while also strengthening their relationship with consumers and trusted dealers.
"I applaud Auto Meter for taking an aggressive stance to protect their brand and products in the online marketplace," says Andy Walker, CEO of Channel IQ. "It is a pleasure to work with an industry leader taking a cutting-edge approach to support their most trusted online retailers."
Jeffrey King, Auto Meter's President and CEO stated, "We are very pleased to partner with Channel IQ on this important initiative. We are very proud of the outstanding reputation that Auto Meter has established in the automotive market, and are committed to ensure that the Auto Meter brand continues to stand for quality, technology leadership, innovation, and outstanding consumer support. Our ultimate goal is to ensure a consistent and positive shopping experience for our enthusiast customers. We are taking all of the steps necessary to ensure that the consumer can shop for our products with confidence regardless of where or how they choose to shop."
About Auto Meter
Auto Meter is a leading developer and manufacturer of specialty automotive instrumentation systems as well as battery and electrical system test and charging equipment. The company operates out of a 93,000 square foot facility in Sycamore, Illinois and distributes its products to over 600 active customers within the specialty warehouse distributor, retailer and OEM channels. Auto Meter products are used through out the world and are relied upon by professional racers from NASCAR, to NHRA, to Formula teams as well by sportsmen racers and by street enthusiasts. Auto Meter Test equipment is used by the worlds leading automotive retail and service organizations. To learn more about Auto Meter, please visit http://www.autometer.com.
About Channel IQ
Channel IQ is the leading provider of price policy monitoring, online intelligence, brand protection and where-to-buy solutions to manufacturers and retailers. Channel IQ provides real-time, online promotion and pricing information, integrated reporting, interactive applications, and managed services to empower major manufacturers and retailers to quickly and profitably handle channel issues and competitive situations. Channel IQ solutions are the result of cutting edge technology combined with decades of industry experience in channel management, distribution, online retail, and manufacturing. For more information, visit http://www.channeliq.com