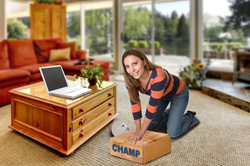 Dallas (PRWEB) April 08, 2015
American CPR Care Association (ACCA) is excited to introduce the future of CPR certification with blended education. Now users can complete the online CPR course and choose to purchase an inexpensive manikin to complete a skills evaluation through Web training.
Blended learning is efficient and convenient. This hybrid training follows all updated ECC/ILCOR and AHA nationally accepted guidelines and is an acceptable method of certification for numerous companies. Upon completion of the online course, users can virtually complete the hands-on skills test with feedback from a live instructor. The program provides for a perfect combination for training in adult, child and infant CPR.
ACCA's new program also features the introduction of its very own Custom Handcrafted Artificial Manikin for Practice (C.H.A.M.P). Users can choose to purchase C.H.A.M.P when signing up for an evaluation session. The user will receive C.H.A.M.P in the mail, prior to the scheduled practice session, for proper hands-on training.
Each training session will last 30 minutes or less, provide users with access to a live instructor and then provide each user with a Nationally Accepted certification card that notates the completion of the blended learning course. This method is simple, flexible and great for individuals attaining certification for the first time or for those that are required to complete a hands-on evaluation.
Visit CPRCare.com to start the new blended CPR certification.
About American CPR Care Association
The American CPR Care Association provides training in online CPR certification, AED training, standard first aid and blood-borne pathogens for lay-responders and Healthcare Providers. The association is always working to add compliant health trainings. Instructors are trained in accordance with national guidelines set by the AHA, ECC/ILCOR and OSHA. The online certification classes provide easy-to-follow curriculum and videos developed by medical professionals. ACCA has been providing quality health care certifications to more than 100,000 individuals since 2003.