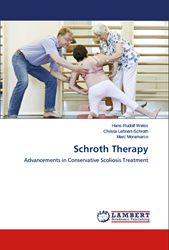 Schroth Best Practice® simplifies the exercises so adolescents, as well as adults, of all scoliosis curve magnitudes can benefit.
Boston, MA (PRWEB) April 07, 2015
The popularity of the Schroth method has been exploding internationally over the past few years, expanding beyond European borders where it has been used to treat scoliosis successfully for decades. The new book on the subject, Schroth Therapy: Advancements in Conservative Scoliosis Treatment, was published this week. Second and third generation Schroth family members Christa Lehnert-Schroth and Dr. Hans-Rudolf Weiss wrote this new text in collaboration with U.S. Schroth practitioner Dr. Marc Moramarco.
The book is a technical guide to be used by Moramarco and Weiss as a guide during Schroth practitioner training sessions, but there are also sections that parents may find helpful when a child is diagnosed with scoliosis. For example, the authors discuss benefits of Schroth methodology: spinal stabilization, improved vital capacity and postural appearance, reduced pain (if present), and patient education and empowerment. Though many parents and children prefer nonsurgical options for scoliosis, bracing is usually the only conservative treatment that is suggested by spinal surgeons.
Some additional topics covered in the text include an overview of indications for scoliosis treatment, information on the principles of asymmetric bracing, considerations factored into the decision of when to brace for scoliosis, Schroth compatible bracing designed by Weiss, photos illustrating successful treatment outcomes, and a historical perspective of the non-surgical treatment of scoliosis as practiced in Europe. It is crucial for parents and adults to educate themselves on Schroth methodology to choose an effective, proactive approach for scoliosis treatment.
For those already familiar with the Schroth method, this new text also outlines the differences between original Schroth and the newest advancements from Germany: Schroth Best Practice®. The objectives of the program remain identical to the original goals of the technique created by Katharina Schroth in 1921. Improvements include the introduction of new Schroth exercises that require fewer props, easier learning, add-ons which address the sagittal plane, and intensive curve pattern education and postural reeducation so individuals learn to unload the spine during daily activities and also how to maintain the corrections specific to their curves.
Dr. Weiss, grandson of Katharina Schroth, is responsible for the newest evolution of the Schroth method. The new techniques are evidence-based and allow Schroth instruction to be accomplished over the course of a few days on an outpatient basis. Weiss is the former medical director of the Asklepios Katharina Schroth Clinic. Dr. Moramarco became the first U.S. physician to be certified in the Schroth Method during Weiss's tenure there. He then introduced these new Schroth protocols in the U.S. in 2007. Dr. Moramarco is the only U.S. Advanced Schroth Best Practice® Instructor and offers these newest derivatives in a one-week intensive outpatient program for adolescents and adults.
Together, the authors of Schroth Therapy: Advancements in Conservative Scoliosis Treatment share more than a century of experience dedicated to nonsurgical scoliosis management. Dr. Weiss is a leading researcher on the conservative treatment of scoliosis and the creator of the Chêneau Gensingen brace®. Christa Lehnert-Schroth, PT, is the author of Three-Dimensional Treatment for Scoliosis, published initially in 1973 and subsequently translated into several languages. Dr. Moramarco's U.S. Schroth program is known for its efficiency and effectiveness. He is also the exclusive provider of the Cheneau-Gensingen® scoliosis brace in North America.