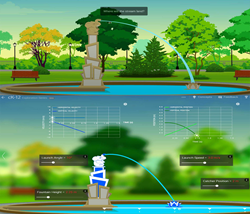 Interactivity is key in classrooms today to deepen student engagement and expand learning. -Neeru Khosla CK-12 Founder and Executive Director
Palo Alto, CA (PRWEB) March 03, 2015
The CK-12 Foundation today announced the launch of a new simulations module that uses real-world interactivity to increase student engagement for the highly-acclaimed CK-12 STEM platform. The free STEM learning platform − created by teachers for teachers − is used in more than 30,000 schools worldwide and will now include a wide range of simulations for physics with more STEM subjects and concepts to follow.
CK-12 designed the new physics simulations (sims) to bridge the abstract and real world to help students learn key concepts by relating them to real world examples all around them. Each of the sims helps to explain multiple concepts in an engaging and relevant way that students can understand and enjoy. Examples of CK-12 sims include "stadium wave", a simulation of fans in a stadium to learn about wave speed and wave interference, and "prom night", a simulation of a student seeing themselves dressed up for prom in front a full length mirror to learn about plane mirrors and the law of reflection.
"Interactivity is key in classrooms today to deepen student engagement and expand learning," said CK-12 Founder and Executive Director Neeru Khosla. "We've created a full range of sims to help get students and teachers started and then we will be adding tools to enable them to customize, design and share their own sims."
Challenge questions are built into each of the CK-12 sims to test student understanding and reinforce learning concepts. CK-12 plans to make the sims customizable in the near future, like all CK-12 content, so they can be created and shared with other students/teachers around the world.
The new CK-12 physics simulations are now available for free on the CK-12 website. They work on all computers and tablets (in html5) as well as in 1:1 learning environments. The company has started by focusing on physics concepts and plans to continue building additional simulations for other STEM subjects.
About CK-12
Palo Alto-based CK-12 is a nonprofit organization that exemplifies the best of open source education software with its well-established STEM content and authoring tools used by more than 30,000 schools globally. Founded by education leader Neeru Khosla, backed by tech industry visionaries such as Vinod Khosla, and referenced by education philanthropist Bill Gates, CK-12's mission is to re-imagine STEM teaching and learning by making free, high quality K-12 STEM content and tools readily available to teachers and students around the world.