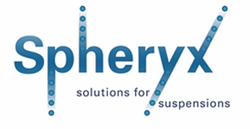 New York, NY (PRWEB) March 04, 2015
Spheryx, Inc. is pleased to announce the completion of a successful seed round financing. The proceeds will be used to finance product development and general business expenses for the commercialization of Spheryx's technology for Total Holographic Characterization™.
The new funds have already been put to work as Spheryx expands with a move into new space and the hiring of David B. Ruffner, PhD to be Director of Analytical Services and Research Scientist for Spheryx. Dr. Ruffner brings extensive experience in holographic video microscopy, the breakthrough technology that is at the core of Total Holographic Characterization™, with numerous publications and a reputation for excellence in the field. Dr. Ruffner has deep ties to the Research Group of Prof. David Grier, Professor of Physics at New York University, Director of NYU's Center for Soft Matter Research, and co-founder of Spheryx.
Spheryx CEO, Dr. Laura Philips, stated "Spheryx is gaining a strong talent with the addition of Dr. Ruffner. His expertise in holographic video microscopy will be invaluable as we deliver state-of-the-art measurements to current customers and to advance the robust, turn-key, commercial instruments currently in development." Dr. Ruffner responded "I am excited to be joining the company at this early stage of commercialization. I believe that Total Holographic Characterization™ has the potential to provide truly transformative capabilities to the market." Total Holographic Characterization™ is the revolutionary technology used to characterize particles in colloids and emulsions, which is exclusively provided by Spheryx, Inc.
About Spheryx, Inc.
Spheryx, Inc. is a privately held analytical services and instruments company providing Total Holographic Characterization™ capabilities. The breakthrough proprietary technology, based on holographic video microscopy, enables the real-time, sub-microscopic characterization of multi-component colloidal materials. Applications include research and development, quality assurance and manufacturing process control across a broad spectrum of industries, where characterization of colloids can enhance innovation, safety and cost savings. For more information please visit the company's website at http://www.spheryx.solutions
Note: This news release contains forward-looking statements regarding future events. These statements are just predictions and are subject to risks and uncertainties that could cause the actual events or result to differ materially. These risks and uncertainties include, among others: the results, timing and costs of our studies; our ability to obtain future funding on acceptable terms; the possible impairment of, or inability to obtain intellectual property rights; and innovation by our competitors.
Contact:
Laura Philips, CEO
laphilips(AT)spheryx.solutions
607-738-0100