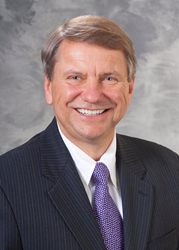 Milwaukee, WI (PRWEB) March 03, 2015
The American Academy of Allergy, Asthma & Immunology (AAAAI) is pleased to introduce its 2015-2016 President, Robert F. Lemanske, Jr., MD, FAAAAI.
Lemanske was installed last week during the Business Meeting at the 2015 AAAAI Annual Meeting in Houston, Texas. The AAAAI is the largest professional membership organization for allergist/immunologists, other medical specialists, allied health and related healthcare professionals—all with a special interest in the research and treatment of allergic and immunologic diseases, including asthma.
"Becoming the President of the AAAAI is truly an honor and I am extremely excited to be given the opportunity to be the leader of this internationally renown organization during the next year," Lemanske said.
Lemanske is Professor of Pediatrics and Medicine at the University of Wisconsin (UW) School of Medicine and Public Health in Madison. Board certified in both pediatrics and allergy/immunology, he is also the Head of the Division of Pediatric Allergy, Immunology and Rheumatology.
"I have been extremely fortunate through the years to receive residency training in Pediatrics as well as fellowship training in Allergy and Immunology at the UW School of Medicine and Public Health. In addition, once joining the UW faculty, my career has greatly benefited from all of the incredibly bright and interactive colleagues that I have the pleasure of working with on a daily basis," Lemanske said.
He has served on the expert panel for the development of guidelines for the treatment of childhood asthma in Canada and the US through the National Asthma Education and Prevention Program (NAEPP) where he is currently a member of the NAEPP Scientific Committee.
In addition to publishing a significant amount of research in peer reviewed medical journals, Lemanske has co-edited three books and penned over 60 chapters across medical textbooks. He has presided on the editorial boards of The Journal of Allergy and Clinical Immunology and Pediatric Allergy and Immunology.
His research focuses primarily on the pathophysiology and treatment of asthma including mechanisms underlying pulmonary late phase reactions, virus-induced airway dysfunction and asthma inception in infants or young children.
"To celebrate the 20th anniversary of the American Academy of Allergy & Immunology becoming the American Academy of Allergy, Asthma & Immunology, my presidential initiatives will focus on asthma," Lemanske explained.
These initiatives include creating the AAAAI Office of School-Based Management of Asthma and Allergic/Immunologic Diseases, which will be tasked with: developing and implementing AAAAI-initiated programs to get asthma action plans into schools for children with asthma; holding a summit meeting for professional and lay organizations on school-based asthma management strategies; and implementing new educational strategies for children that can be used in the clinic setting, at home and in schools.
For more information on asthma or the AAAAI Annual Meeting please visit the AAAAI website.
The AAAAI represents allergists, asthma specialists, clinical immunologists, allied health professionals and others with a special interest in the research and treatment of allergic and immunologic diseases. Established in 1943, the AAAAI has more than 6,800 members in the United States, Canada and 72 other countries. The AAAAI's Find an Allergist/Immunologist service is a trusted resource to help you find a specialist close to home.
###