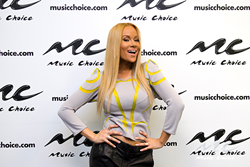 New York, NY (PRWEB) March 11, 2015
Music Choice, the #1 Free VOD provider in the US, is joining forces with TV One, the network that seeks to inform, entertain and inspire the African-American audience, to cross promote R&B Divas: LA's newest cast member and R&B rising star Brave Williams. Starting today, Brave will be featured in Music Choice's Take Back Your Music branding campaign to promote her latest video "Road Trippin." Since joining the current season of TV One's R&B Divas: LA, Brave has opened up about her journey in the music industry. This week's episode, airing Wednesday, March 11th at 10PM/ET will feature an exclusive, insider's look at Brave's visit to the Music Choice offices where she filmed footage for their Take Back Your Music promotional campaign. In addition to releasing her new music video, Music Choice will run Brave's promo for the campaign in which she reveals just how she sets the rules for her music career.
Brave Williams' steamy new music video "Road Trippin" premieres today nationally on Music Choice On Demand. Directional: Music Choice On Demand>Hip Hop and R&B
Music Choice's "Take Back Your Music" branding campaign, highlights how today's most compelling artists reclaim control of their music is. The new TBYM spots featuring Brave will run across all of Music Choice's properties including MC On Demand, MC Music Channels, and MusicChoice.com and off channel on TV One.
Music Choice is the #1 Free On Demand Network with 1.1 billion annual views. It is available nationally in over 54 million households.
About Music Choice:
Music Choice, the multi-platform video and music network, delivers its music programming to millions of consumers nationwide through their televisions, online and mobile devices. Music Choice programs dozens of uninterrupted music channels; produces originals that feature today's hottest established and emerging artists; offers thousands of music videos; and launched Music Choice Play, the music video, lifestyle and entertainment network for Millennials. For additional information log on to http://www.MusicChoice.com | Twitter: @MusicChoice | Facebook: http://www.facebook.com/MusicChoice
About TV One:
Launched in January 2004, TV One (http://www.tvone.tv) serves 57 million households, offering a broad range of real-life and entertainment-focused original programming, classic series, movies and music designed to entertain, inform and inspire a diverse audience of adult black viewers. In December 2008, the company launched TV One High Def, which now serves 14 million households. TV One is owned by Radio One [NASDAQ: ROIA and ROIAK; http://www.radio-one.com , the largest radio company that primarily targets black and urban listeners.
Contacts:
For Music Choice:
Erica Washington/646-459-3374/ ewashington(at)musicchoice(dot)com
For R&B Divas
Lameka Lucas/TV One/301-755-2826/llucas(at)tvone(dot)tv
Elina Adut/The Lippin Group/ 323-965-7990/eadut(at)lippingroup.com