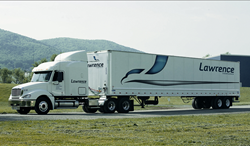 Rockville, MD (PRWEB) March 03, 2015
Transportation Costing Group (TCG), providers of Activity-Based Costing and Profitability Management Tools™ for truckload and less-than-truckload motor carriers, today announced that Lawrence Companies has chosen to implement its Truckload Cost Information System (TL/CIS). The diversified transportation services provider is utilizing the TCG solution in its truckload operation to address profitability issues and make more effective decisions.
"Six months ago we had nothing other than historical information from our transportation management software," said Walter A. Grigg III, Vice President of Strategic Development and Business Intelligence at Lawrence Companies. "Data visibility was poor, and only provided generalities about what had already happened in our business. With TCG's Truckload Cost Information System we have a forward-looking solution that accounts for the complexities in a truckload operation and brings to light trends. TL/CIS forces us to be incredibly insightful about the profitability of each of the 20,000 loads we handle every year. It's a game changing tool that has quickly had a positive effect on our business."
Grigg also explains that with TCG's TL/CIS solution, Lawrence Companies was able to gain valuable perspective. "It's a very powerful system that gives great insight into our profitability for existing customers as well as new or potential business, and is helping us make more effective rating, pricing and operational decisions," he stated. "It also raises important questions about our own data and forces us to question if there are even further opportunities improve our processes. We have been very pleased with our ROI for the TCG TL/CIS system."
Lawrence Companies, based in Roanoke, Virginia, provides a range of services, including truckload dry van, flatbed and intermodal container hauling, as well as logistics, warehousing, moving and storage services. Lawrence Companies operates more than 200 power units and 800 trailers.
"The Lawrence Companies is using our Truckload Cost Information System to fully understand actual costs and to leverage operational efficiencies as well as make rate adjustments for greater profitability," said Jack Jones, vice president at TCG. "By using our software and a commonly accessible business intelligence system to analyze opportunities, they are able to realize profitability improvement in a short amount of time. We are very pleased that Lawrence Companies has chosen TCG to help meet its needs."
About TCG
Transportation Costing Group is the provider of the most widely used suite of Profitability Management Tools and activity-based costing models to the motor carrier industry. TCG provides models tailored to specific carrier operations. Information on services offered by TCG can be obtained by contacting (800) 328-9700 or info(at)tcgcis(dot)com. For general product information please visit http://www.tcgcis.com.
Media Contact:
Susan Fall
LaunchIt Public Relations
858-490-1050
susan(at)launchitpr(dot)com
http://www.LaunchItPR.com