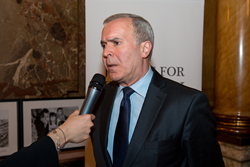 For the first time, the Italian public will be able to watch a documentary that shows the reality of what happened in our country 23 years ago.
Rome, Italy (PRWEB UK) 6 March 2015
On 23 February, the new independent documentary 'Endless Corridor' was screened amidst the 19th century splendour of the Grand Hotel Plaza in Rome. The screening commemorated the victims of the Khojaly Massacre in 1992 – the worst single atrocity of the Armenian–Azerbaijani conflict over Nagorno-Karabakh – which claimed the lives of 613 civilian victims in 1992. The death toll included 106 women, 63 children and 70 elderly people.
Initially, H.E. Vaqif Sadikov, Azerbaijani Ambassador to Italy, recalled his own vivid experiences of Khojaly. He had taken a party of international observers to the airport shortly before it was overrun by the Armenian armed forces and commented: "This commemoration falls near the anniversary of the Khojaly Massacre, a date that is very important for all Azerbaijanis. For the first time, the Italian public will be able to watch a documentary that shows the reality of what happened in our country 23 years ago. However, the Nagorno-Karabakh conflict between Armenia and Azerbaijan does not belong to the past, but to present-day Azerbaijan. For over 20 years, Nagorno-Karabakh and the seven surrounding districts of Azerbaijan have remained under Armenian military occupation, equating to around 20 per cent of Azerbaijani territory."
Then, Lionel Zetter, Director, The European Azerbaijan Society (TEAS) commented: "Justice for Khojaly is an international awareness campaign initiated by Mrs Leyla Aliyeva. Since its foundation in 2008, the campaign has been active in over 100 countries. It has gathered widespread support for the cause of peace and justice in the occupied Nagorno-Karabakh region of Azerbaijan.
"History is always open to debate and interpretation, and few countries have more history than Italy. However, I reiterate that the events that occurred in Khojaly in 1992 did so within living memory, and there is little doubt about what happened that terrible night.
"Endless Corridor is a documentary, and the people you will see are real – they experienced first-hand the traumatic events which took place on that terrible evening in February 1992. Everyone who appears – Azerbaijani victims, Armenian perpetrators, Russian and European witnesses – tells their own story, unscripted. Only the narration by the acclaimed British actor Jeremy Irons is scripted.
"Prior to a screening of this film in Ankara last week I had the privilege to meet one of the survivors from Khojaly, a musician named Valeh Huseynov, who is featured in this film. His wife was shot, and he was viciously tortured.
"I also attended a showing last week in London, and was fortunate enough to hear film director Aleksandras Brokas speak of making 'Endless Corridor'. It took more than five years to finish, and involved technicians from 15 countries. But it was a labour of love for both Aleksandras and Richard Lapaitis, whose journey to rediscover the survivors of Khojaly is chronicled in this film.
"Tonight is also dedicated to Dilham Asgarov and Shahbaz Guliyev, two Azerbaijani civilians who were taken hostage by the occupying forces in July when tending the graves of their relatives in their historic homeland. If tending a grave is a crime, few of us in this room are innocent.
"This evening is dedicated to the memory of those Khojaly victims who died that night and also to the survivors, who have one wish – to return home. I hope that this film will bring the prospect of Justice for Khojaly a few steps closer. Believe me, whatever it takes, and however long it takes, there will be Justice for Khojaly."
Despite the passing of four UN Security Council resolutions against the invasion, Armenia continues to occupy Nagorno-Karabakh and seven surrounding districts to this day. Currently, approximately 875,000 refugees and internally displaced persons (IDPs) remain spread across Azerbaijan. The evening was dedicated to the memory of the Khojaly victims and those Azerbaijanis who have one wish – to return home.