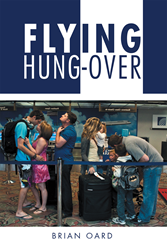 I have read the Bible, the Quran, the Book of Mormon, and 'The God Delusion'
INMAN, Kan. (PRWEB) March 05, 2015
Is there anything worse than boarding a plane while nursing a hangover?
Brian Oard doesn't think so. In his book, "FLYING HUNG-OVER," he deals with some of life's most pressing issues while simultaneously dealing with the throbbing in his head. From religion to race relations, traveling to parenting, Oard's frank, unfiltered thoughts hit their every target, often with humorous results.
Oard has spent years traveling all around the country, reading and conversing with viewpoints drastically different than his own. This exposure has given him a unique perspective.
"I have read the Bible, the Quran, the Book of Mormon, and 'The God Delusion,'" Oard said. "I tend to watch shows and documentaries that are more contrary to my belief system than similar."
Oard's combination of diverse sources with his own raw honesty creates an interesting picture of life in modern America.
For more information, visit http://www.xlibris.com.
FLYING HUNG-OVER
By Brian Oard
ISBN: 978-1-46537-194-2
Available in softcover, hardcover, e-book
Available on Amazon, Barnes & Noble and Xlibris
About the author
Brian Oard was born and raised in Inman, Kansas. He earned a degree from Hutchinson Community College and currently works for Alcoa. "FLYING HUNG-OVER" is his first book. He still resides in Inman.
# # #
**FOR IMMEDIATE RELEASE**
For review copies or interview requests, contact:
Drew Tharp
317.602.7137
dtharp(at)bohlsengroup(dot)com