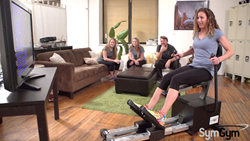 SymGym's value proposition lies within its unique combination of video game controller and resistance-based exercise
Itasca, IL (PRWEB) March 09, 2015
SymGym, a dynamic, resistance-based video game controller and exercise device that provides players with fun incentives to keep active, will be exhibiting at the SXSW Gaming Expo located at the Palmer Events Center in Austin, Texas, March 13-15.
SymGym players control their favorite and customized games by moving the arm bars and foot pedals. The resistance changes based on game level, game actions, or both. Uphill is harder than downhill. Heavy objects are harder to move than lighter objects.
Additionally, SymGym monitors players' exercise to track calories burned, level of difficulty, power output, duration, resistance and more, allowing players to view and track detailed workout statistics and progress over time.
"SymGym's value proposition lies within its unique combination of video game controller and resistance-based exercise device to provide a continuously engaging, fun platform for children, adolescents, and adults to improve their cardiovascular health and overall fitness," stated Rob Quinn, Co-Founder and President.
Visit SymGym at Stand #523 at the SXSW Gaming Expo to try SymGym or to speak with one of SymGym's team members. The event is free to the public. You can also visit http://www.symgym.co for more information.