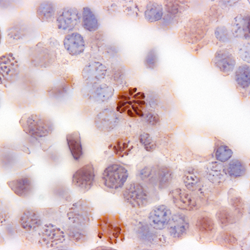 Using new levels of light microscopy detail, daughter cells no longer appear identical but display features indicative of asymmetry.
IDAHO (PRWEB) March 05, 2015
Bi-Biomics today announced a discovery made possible through Ultralight Histology's paraffin and stain additive. The improvement in histological quality provided the detail necessary to observe the binary features present in all daughter cells.
After processing with Ultralight Histology's novel FFPE protocol, chromatin packaging was analyzed at 1000-1600x using light microscopy. Phylogenetic and histologic traces indicated that chromatin patterning in all daughter cells displayed predominant binary features --- one nucleus is course and chromatin is peripheral and the other is larger with more defined chromatin.
The cytoplasm of daughter cells displays unique differences in the degree of granulation as well as in protein expression. This process is strictly conserved and always present in malignancies, where the more undifferentiated tumors display greater levels of dissimilarity. When using time-lapse fluorescence real-time microscopy, it becomes apparent that these variations between daughter cells are indicative of pairing.
Dr. Jacob Michaelson of Cold Springs Harbor first documented this phenomena in plants. In continuation of his work, Bi-Biomics performed a phylogenetic trace to further mark the asymmetry in chromatin patterning. The robust trace covered the majority of the catalogue at Carolina Biologicals as well as the fruit fly, mouse, human, and human cancers.