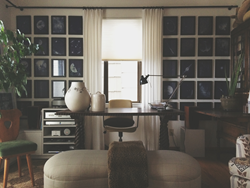 San Francisco, CA (PRWEB) March 04, 2015
It isn't often that a designer in her twenties is celebrated in a national publication. Lynn K. Leonidas was thrilled when an Instagram photo of her San Francisco apartment led her to win a coveted three-page spread in design magazine, Domino. As a former editorial contributor for California Home + Design and Rue Magazine, she gained her experience behind the scenes and dreamed of the day her own work would find its place in those glossy pages.
After posting a photo of her home on Instagram and tagging #sodomino, the designer was hand-selected as one of four finalists, beating over two thousand other submissions. She was voted the winner by dedicated Domino readers.
In the designer's Castro apartment, Lynn's modern sensibility in creating layered interiors is highlighted by her arrangement of antique and contemporary pieces against a crisp color palette of mixed woods and clean white walls. The designer considered functionality as well as style when decorating her 1,000-square-foot space, creating versatile rooms where she and her husband could work and entertain. The stylish room attributed for Lynn's Domino success is her home office, a space off of the living room that is expertly composed with antique heirloom furnishings, classic patterns, and a gallery wall of stunning astronomical illustrations sourced from 1950s textbooks. With its blend of personal artifacts and local artisanal pieces, Lynn creates a collected interior with a young, fresh approach.
About Lynn K. Leonidas
Lynn K. Leonidas is an up-and-coming name in the design industry and is currently designing homes in the Bay Area and Los Angeles. Lynn learned her skills working as a design project manager for a handful of Bay Area interiors firms and writing for publications such as California Home + Design and Rue Magazine. Her influence comes from her family's construction background, an appetite for interior design history, and her work with the local young artists community.