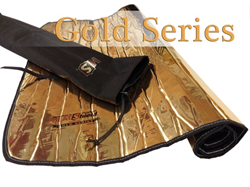 Sunnyvale, CA (PRWEB) March 07, 2015
Heatshield, the original manufacturer of custom fit sunshades, is debuting their new Gold Series Sunshade for the upcoming summer season. After more than 30 years in business, Heatshield is offering their customers a new, more luxurious option for their vehicles. Now through the end of April, http://www.heatshieldstore.com is offering introductory specials on their Gold Series Sunshades.
The Gold Series Sunshades have the same reflective properties as Heatshield's Silver Series Sunshades, but offer a more luxurious look and come with a custom cloth storage bag. Heatshield's sunshades are made of a strong but flexible material designed to be supported with sun visors alone, and provide an average temperature reduction of 25˚ F.
"I received my Heatshields for my Toyota FJ Cruiser's windshield and side windows," M. Smith shared. "I immediately put them up, what a perfect fit! Wow these are great, very little to no light gets through, I could even feel it get cooler in the car right away. We live in Texas and it gets hot here... So these will work great."
Although the need for a cool car is felt most in the hot, summertime months, using sunshades year round helps to protect your car's interior and the valuable electronics found in many of today's newer vehicles.
Heatshield began as a project of Bruce Perch, owner of Aircraft Covers, Inc, over 30 years ago, but has since grown to be an integral part of the company. In the beginning, Heatshield only had patterns for the most popular car models and everything was cut by hand. Over time it has accumulated a database of patterns for virtually every car, truck, and van on the road, each cut precisely on computer-driven cutting tables. Heatshield services the United States and major markets worldwide.