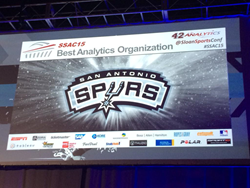 Teams like the San Antonio Spurs realize the immense value of technology like SMARTABASE
Boston, MA (PRWEB) March 05, 2015
Fusion Sport Inc. has been named the winner of the MIT SLOAN Sports Analytics Conference – Trade Show Blitz competition, a competition of businesses pitching their new technologies that will have the most promising impact in the sports market.
Fusion Sport demonstrated the cutting edge features and benefits of their SMARTABASE Athlete Data Management solution, which features an industry leading and unique customer development platform that allows teams and colleges to monitor every aspect of their athletes' performance and health across the web and on mobile devices.
The Blitz competition allowed participants to present 5-minute presentations to a panel of sports industry and start-up business entrepreneurs, explaining their business, new technology, and to demonstrate how their products would revolutionizing the sports industry.
MIT's SLOAN Business School has presented the Sports Analytics Conference Alpha awards since 2012, in more than 6 categories, for Lifetime Achievement in Sports Analytics, Best Analytics Organization, Best Trade or Free Agent Signing, Best Research Paper, First Pitch Case Competition, from an impressive array of public and private companies from a variety of industries, sectors and regions. The companies that won gold, silver and bronze awards in this year's program represent the best in American business.
Congratulations also goes out to Fusion Sport Inc. Smartabase client, the San Antonio Spurs for winning the Best Analytics Organization award and to Spur's General Manager R.C. Buford for receiving the Lifetime Achievement Award for his efforts and growth of analytics in the Spurs organization.
"We are honored to be recognized for our product and potential, and to have the chance to go up against some top competitors. Our SMARTABASE solution is truly poised now to become part of the fabric in the North American market, mirroring its international success through its parent company in Australia and sister company in the UK", exclaimed Tanya Porter, Sr. VP of Business Development for Fusion Sport Inc.
"In recent years in the US there has been a real shift toward a new culture to adopt key data sets, sports performance assessment, athlete monitoring and analytics, as the industry realizes the importance of data in reducing injuries and maximizing performance. Teams like the San Antionio Spurs realize the immense value of technology like SMARTABASE, and its ability to bring all key aspects together in one integrated solution. The Alpha award and opportunity to work with teams such as the Spurs truly validates the potential of SMARTBASE and Fusion Sports Inc's. future growth here", remarked Fusion Sport CEO Dr. Markus Deutsch.
About Fusion Sport Inc.
Fusion Sport Inc. is the 2010 launched North American subsidiary of Australian based parent company Fusion Sport PTY. LTD. Fusion Sport Inc. operates out of offices in Colorado and the Chicago area. Fusion Sport is a world-wide sports performance technology and solutions company. http://www.fusionsport.com
The company offers SMARTABASE, which is a cloud based Athlete Data Management system and SMARTSPEED, a world-class timing and training system. SMARTABASE is the world's most user customizable and flexible solution to collect data, monitor, analyze, visualize and report on numerous sports performance aspects within a single integrated system providing the optimum platform for athlete monitoring, sports analytics and informed organization success.
About the MIT SLOAN Sports Analytics Conference:
Since 2009, the MIT Sloan Sports Analytics conference organized by the Sloan Business School at MIT, has brought together the industry leaders in data analytics, sports and students to discuss the increasing role of analytics in the global sports industry. MIT Sloan is dedicated to fostering growth and innovation in this arena, and the conference enriches opportunities for learning about the sports business world.