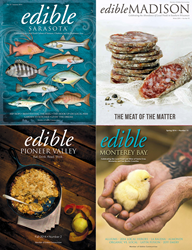 New Caanan, CT (PRWEB) March 04, 2015
Edible Communities, the country's leading local food publisher with 85+ magazines in distinct culinary regions throughout the U.S. and Canada, has just launched online voting for its first-ever 2015 Reader's Choice EDDY Awards.
Now in their 10th year, the EDDYs showcase the best of the best produced by the award-winning family of independent Edible publishers. "From profiles of local farmers, artisans and chefs to seasonal recipes and stories about sustainability, this year's finalists provide a fascinating look at the exciting things happening in the local food landscape," said Eric Thorkilsen, CEO of Edible Communities.
The magazines of Edible Communities are known for their vividly beautiful covers and now the brand is asking the world to help choose a favorite cover among 17 critically-acclaimed finalists. Vote for Best Cover and choose favorites in 20 other categories at ediblefeast.com/eddyawards.
Entries are being judged by some the most esteemed professionals in the food world including best-selling author, educator and food politics thought leader Marion Nestle, Food & Wine editor-in-chief Dana Cowin, Food52 co-founder Merrill Stubbs, Beekman 1802 founders Brent Ridge and Josh-Kilmer-Purcell and many others. For a complete list, go to the 2015 EDDY Awards Judge's page.
While the public decides Reader's Choice winners, judges will decide Critic's Choice Awards. Voting is underway though March 15, 2015 at 11:59 pm ET. Find out who's a finalist in or near your community at ediblefeast.com/eddyawards. Follow tweets and posts about the awards using #EDDYS2015. All winners will be announced on the site on March 20, 2015.
About Edible Communities
Since its creation in 2002, Edible Communities has grown to be a widely respected leader in the local food space, distributing an average of 1.4 million copies per issue in more than 85 local communities. Through its distinctive licensing business model, individual entrepreneurs in discreet geographic areas lead the creation of hyper-local content celebrating local food culture, season by season, community by community. With engaging writing, design and photography, the brand was honored in 2011 with a James Beard Award for Publication of the Year.
Watch our PBS television show: "Victory Garden's edibleFEAST", which combines the best of Edible with a fresh take on community and home gardens, and visit ediblefeast.com for expertly curated content from Edible Communities and other established voices in the food, drink and garden world.
For images or more information, please contact Kate Manchester: kate(AT)ediblemedia.com, 866- 825-6053 X709