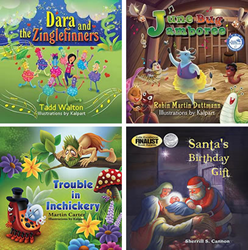 The main focus was making sure there was a contract option available no matter what the author was in need of. Lynn Eddy, SBPRA Contract Manager
(PRWEB) March 04, 2015
Lynn Eddy, the Contract Manager with Strategic Book Publishing and Rights Agency for the past ten years, is herself a children's author and finely attuned to the special needs and requirements to bring these books to print. With her unique insights, she and SBPRA decided to launch a new division devoted to children's books that will make the publishing process easier.
"A common problem I was hearing from authors was that they had a great story but no way of obtaining professional illustrations that would do their story justice. We have award-winning artists on staff who have illustrated hundreds of our books," explains Ms. Eddy. "We have therefore developed publishing packages that include illustrations, for those who wish to avail themselves."
She also found that marketing was a main concern to authors so she collaborated with sister company Author Marketing Ideas to include special marketing in the new packages. Video trailers, eBook distribution, and enhanced websites are among the services available.
"If authors already have illustrations, we have an attractive contract for them as well. The main focus was making sure there was a contract option available no matter what the author was in need of."
The four contract options can found at http://www.SBPkidsBooks.com and, for the month of March, there will be an additional $199 taken off the already very competitive prices for the contracts.
Lynn Eddy can be reached at Lynn@SBPkidsBooks.com.