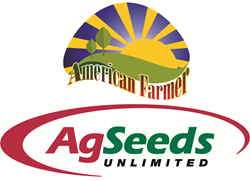 Jupiter, FL (PRWEB) March 04, 2015
American Farmer announced today that they will feature Ag Seeds in a new episode, airing Tuesday, March 10, 2015 at 7:30 am ET on RFD-TV.
American Farmer will explore Ag Seeds, founded in 1975, whose mission is to identify and sell genetics that are adapted to the changing needs of California Agriculture and that contribute to the sustainable production of safe and nutritious food.
In this episode, American Farmer will educate audiences on how Ag Seeds has evolved over the last 38 years into California's premier distributor of field seeds, vegetable seeds, and nursery seedlings. This segment will focus on how Ag Seeds has integrated into the California processing tomato business, from variety selection to planting to harvesting, to processing, and more.
"We were flattered and excited by the invitation to be featured on American Farmer; an educational program that focuses on innovation in Agriculture. It is a great opportunity to showcase the unique work we do at Ag Seeds," said Ag Seeds President, Scott Sullivan. "Given the current focus on sustainability, a segment featuring Ag Seeds work in processing tomatoes creates an opportunity to not only illustrate our work. It also creates an opportunity to publicize the great success the California Processing Tomato industry has had conserving resources in the production of this important crop."
Technical support that includes extensive research on product performance, planting schedules, transplant production, transplanting, field evaluations, new technology assessment, market analysis and lab services are all part of the package that Ag-Seeds delivers.
"Ag Seeds sets the standard amongst distributors of genetics in California and has played a key role in the evolution of Agriculture, and the sustainable production of safe and nutritious food, " said Charlie Cowan, Producer for the series. "We are thrilled to showcase Ag Seeds in this episode."
About Ag Seeds:
Ag Seeds' focus is identifying and advancing the use of new genetics that will add value in the supply chain from production to consumption. Through its comprehensive product research Ag Seeds has become integrated into the businesses of its affiliate suppliers, growers, and processors. Ag Seeds currently services over 600 growers in the Sacramento and San Joaquin Valleys. Ag Seeds constantly delivers the highest level of service, product knowledge and technical support to be found in the seed and transplant industry. For more information, visit: http://www.agseeds.com or call (530) 666-3361.
About American Farmer:
American Farmer is a breakthrough program on a mission to showcase the latest advancements in agriculture and farming. From seed to harvest, livestock and more, our producers have traveled the country covering the people, places and issues impacting all areas of farm country.
American Farmer airs Tuesdays at 8:30am ET on RFD-TV. Check your local listing for show times. For more information visit: http://www.AmericanFarmerTV.com or contact Charlie Cowan at: (866) 496-4065 x 875 or via email at: Charlie(at)AmericanFarmerTV(dot)com.