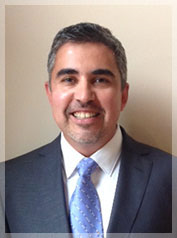 Minneapolis, MN (PRWEB) March 03, 2015
Andres R. Sanchez, DDS, MS is newly certified to provide the revolutionary Pinhole Surgical Technique™, or PST™, to correct the often devastating effects of receding gums. As a compassionate Minneapolis, MN periodontist, serving the Twin Cities area, Dr. Sanchez seeks to make dental procedures less painful and traumatic. This unique treatment does not involve grafts, so there are no incisions or sutures, and recovery time is minimal.
A tooth is made up of dentin, which has tiny tubules running through it that are connected to the nerve pulp at the center. Healthy gums are snug around the roots of teeth, protecting the sensitive dentin from external stimuli and bacteria. Aggressive tooth brushing, periodontal disease and other factors often cause pockets to form between the gums and the roots. Receding gums alter the appearance of the teeth, making them look longer and aging the smile. The effects of recession go beyond aesthetics, though. The spaces make good oral hygiene difficult while providing an inviting environment for bacteria, which feeds on acids in the mouth and forms plaque around the gum line. If an individual is unable to effectively reach the plaque with brushing and flossing, infection is likely.
Traditional treatment methods for treating receding gums in Eden Prairie include tissue grafting. During this procedure, the tissue may be taken from a small incision in the roof of the mouth, from elsewhere in the mouth or from a tissue bank. If there is enough gum tissue near the exposed root, a pedicle graft is sometimes used. This involves cutting a flap in the gums and stretching it over the affected area. After the tissue is stitched in place, a person typically has a recovery time of about four weeks.
PST™ eradicates the need for cuts and stitches. Minneapolis, MN periodontist Dr. Sanchez uses a unique tool to make a tiny hole in the gums. He loosens the tissue carefully and then draws the gums back into place. A strip of collagen is inserted to keep the gums stable and stimulate new tissue growth to ensure a complete recovery. Most patients report feeling no discomfort within the next two or three days. Individuals in the Twin Cities area who are interested in learning more about PST™ can find information on Dr. Sanchez's website.
About the Practice
PerioWest is a periodontal practice offering personalized dental care for patients in Eden Prairie, MN and the Twin Cities areas. Dr. Andres R. Sanchez received his Certificate & Master's Degree in Periodontics from the prestigious Mayo Clinic in Minnesota in 2004. He is a Board-Certified with the American Board of Periodontology. In addition, Dr. Sanchez has been involved as a primary author in more than ten scientific papers published in major periodontal and implant dentistry journals. To learn more about Dr. Sanchez and the services he provides, please visit his website at http://www.periowestmn.com or call (952) 479-4705.