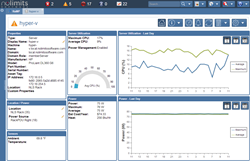 RaMP's auto-discovery allows customers to be up and running with their DCIM solution in hours rather than months!
St. Louis, MO (PRWEB) March 04, 2015
No Limits Software announces the release of version 3.3 of their RaMP DCIM (Data Center Infrastructure Management) solution with a number of new features including PDU outlet level monitoring and control, new advanced search capabilities, enhanced alarm notification, visual power view, a plugin for Oracle Enterprise Manager 12c, and support for Geist and BayTech PDUs, Stulz cooling equipment, and Cisco stacking.
The RaMP DCIM solution provides data center management from the virtual machine to the IT infrastructure (servers, blades, storage, network) to the Facilities infrastructure (power, cooling, environmental monitoring). RaMP's auto-discovery allows customers to be up and running in hours rather than months, significantly reducing the time and cost for collecting the asset configuration data while also improving the accuracy by 10-15%. The intuitive user interface reduces training time. RaMP also provides software and operating system license management, state of the art workflow management to manage tasks, and contract and cost management for all assets.
RaMP 3.3 will be on display at Data Centre World in London (at the Enlogic booth) on March 10-11 and at the upcoming AFCOM Data Center World conference in Las Vegas in April.
Version 3.3 of the RaMP DCIM solution includes the following new features:

Outlet level monitoring and control allows users to accurately measure power to the outlet level and to turn on, turn off, and cycle power to the outlets
New advanced search capabilities include the ability to search and report on more data fields, search for missing values, and provides more control over what data is displayed in custom reports
Enhanced alarm notification allows administrators to create an unlimited number of notification methods, including the ability to execute commands to create custom alarm procedures. Any combination of asset data parameters can be sent with the alarm information, allowing RaMP to easily integrate with external systems such as BMC Remedy, LANDESK, and SMS messaging systems
Support for Geist and BayTech PDUs, Stulz cooling equipment, and Cisco stacking
Visual power path view provides a visual view of the power path for every asset to quickly show single points of failure
The RaMP DCIM solution provides the following benefits:
Auto-discovery of detailed device information
Power and environmental monitoring down to the device level
Server monitoring to identify servers which should be retired, virtualized or consolidated
Software and operating system license management
Lease and service contract maintenance
Asset cost tracking
Automated change control to reduce MTTR and increase availability
Web services API for integration with other systems
PUE, DCiE and CADE energy management calculations
Accurate capacity planning data to reduce stranded power and shutdown risks
Device type roll-up views for an easy way to quickly compare device performance
Visual workflow and task management
About No Limits Software
No Limits Software is a leading provider of data center infrastructure management (DCIM) solutions, including asset and change management, capacity planning and real-time monitoring. Their RaMP DCIM solution provides auto-discovery of detailed asset configuration, reducing data collection time and cost as well as increasing the accuracy of the data. RaMP automates change management and provides real-time sensor data such as power, CPU utilization, and environmental conditions. RaMP's ability to manage everything from the virtual machine to the IT equipment (servers, storage, and network) to the power and cooling infrastructure helps data center managers to understand and more effectively operate their data centers.