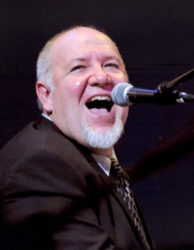 (PRWEB) March 03, 2015
In the second installment of this exciting series in partnership with the Jefferson Parish East Bank Regional Library, Hall Piano Company and the Steinway Society of New Orleans present pianist Tom Hook on "Music of the Civil War" Wednesday, March 25th at 7:00PM.
A part of "Conversations with the Artist", Hook's program will include period music of 1861-1865 from both sides of the Mason-Dixon line, emphasizing not only the patriotic sentiments of the day but also the poignant, tender and sometimes comical music of the soldiers in the field and the loved ones waiting back home.
Sponsored by South Louisiana's premier Steinway dealer, Hall Piano Company, the concert is free and open to the public. The East Bank Regional Library is located at 4747 West Napoleon Avenue in Metairie.
Guest artist Tom Hook is a worldwide traveler who began his career in Kansas City, Missouri. For much of the 1980's and 90's, Hook was involved with the Delta Queen Steamboat Company, working as an entertainer and entertainment director of various steamboats and cruises. Currently Hook graces the American Eagle and Queen of the Mississippi riverboats with his one-man historical drama "Riverman!" and regularly performs his tribute to Louis Prima, the award-winning Jump, Jive, and Wail, at the World War II Museum's Stage Door Canteen.
Steve Kinchen, co-owner of Hall Piano Company, said, "This series can bring history to life for kids and parents alike. The presentation is free and open to the public, and delightfully entertaining for all whatever the level of musicianship."
Since 1958 Hall Piano Company has served families all across the Gulf Coast. As South Louisiana's premier Steinway & Sons dealer, services include piano rentals and sales, acoustic and digital piano sales, piano lessons and method books.
For additional information about Conversations with the Artist: Tom Hook on Music of the Civil War, contact Emily McWilliams at emilym(at)hallpiano(dot)com or call 504.733.TUNE.