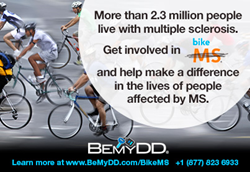 "We're excited to partner with Bike MS and show our support for this amazing fundraiser," said Arthur Simanovsky, BeMyDD president and CEO.
Miami, Florida (PRWEB) March 04, 2015
BeMyDD (Be My Designated Driver), the nation's largest designated driver service, today announced a partnership with Bike MS to provide teams of drivers at their annual cycling event being held on March 7-8 at the FIU Stadium in Miami, Florida.
BeMyDD will be providing teams of personal drivers as route support to the 1,200+ cyclists participating in the event. The BeMyDD drivers will be available to assist riders who need assistance while on the route. All BeMyDD drivers will be equipped with radios connected to event organizers to provide efficient service. In addition, BeMyDD drivers will be providing transportation for riders and volunteers to and from the host hotel, Key Largo Resorts and other area hotels.
Bike MS was established in 1980 and is part of the national fundraising efforts to raise funds to make a difference in the lives of people affected by the disease. It has become the largest organized cycling series in the country. Last year, cyclists raised nearly US$83 million to fund research and provide programs. Multiple sclerosis is an unpredictable, often disabling disease of the central nervous system, which interrupts the flow of information within the brain, and between the brain and body. Symptoms range from numbness and tingling to blindness and paralysis. The progressive and specific systems of MS in any one person cannot yet be predicated but advances in research and treatment continue to be made. Most people with MS are diagnosed between the ages of 20-50, with at least two to three times more women than men being diagnosed with the disease. MS affects more than 2.3 million worldwide.
More information about the event can be found at http://www.bikems.org. Information about MS and the Society's services are available 24-hours a day by calling +1 (800) 344 4867. Volunteers can join the movement and get more information at http://www.nationalMSsociety.org.
As part of its core service offering BeMyDD, provides personal driver transportation services to clients to take them back and forth between medical appointments, elderly care and outpatient medical procedures. The BeMyDD Personal Driver Service is where a professional driver arrives at the client's home and chauffeurs them anywhere they want go using the client's own car. Making multiple stops if necessary, the driver waits in the car and takes the client back home when they are ready. The Personal Driver Service costs US$14-US$19.50/hour, depending on geography, and has a three-hour minimum.
BeMyDD will be offering all Bike MS event supporters, participants, and their family and friends, US$20 off their first personal driver booking, valid the entire month of March. To receive the discount, one must create an account at http://www.bemydd.com/BikeMS and enter the promo code: BikeMS when prompted. The US$20 credit will be automatically applied to their account and can be used on their first reservation. This offer is only available to new customers.
"We're excited to partner with Bike MS and show our support for this amazing fundraiser," said Arthur Simanovsky, BeMyDD president and CEO.
BeMyDD offers an alternative to ridesharing services such as Uber and Lyft, with a range of affordable services where professional, experienced chauffeurs operate the customer's own vehicle. Services are priced at pre-determined rates free of surge pricing or other surprise fees.
ByMyDD provides two primary services, a Personal Driver Service and a Pick-Up Service. The pick-up service is for anyone who has already driven to a location and is not able to drive home. This service costs US$25 for pick-up and US$3.45 per mile with a US$45 minimum. As part of BeMyDD's Pick Up Service, the company will dispatch two drivers, one to take the client and their car home and a second to follow behind to retrieve the BeMyDD driver. Reservations for either service can be made through the website at BeMyDD.com, by calling +1 (877) U BeMyDD (823 6933) or downloading and using the BeMyDD mobile app (iOS and Android).
The average age of a BeMyDD driver is 51 and the company requires every driver to have at least 10 years of previous professional driving experience, complete an in-person interview and undergo very comprehensive background checks. Many drivers hold a commercial driver's license (CDL). BeMyDD provides primary insurance while operating its customers' cars with comprehensive collision coverage, which includes theft protection as well as a US$2 million commercial auto policy that covers its customers' vehicles and rental cars if a BeMyDD referred driver is at fault.
To ensure a "white glove" customer experience, BeMyDD operates a U.S. based customer service center that clients can contact to make reservations, confirm details, and ask questions about the service or a driver. The service center operates 9 AM to midnight EST Sunday through Thursday, and 9 AM to 2 AM EST Friday and Saturday. Customers are also able to request specific drivers whom they have hired in the past with BeMyDD. Additionally, women are able to request a female driver if they so prefer.
About the National Multiple Sclerosis Society
The Society mobilizes people and resources to drive research for a cure and to address the challenges of everyone affected by MS. To fulfill this mission, the Society funds cutting-edge research, drives change through advocacy, facilitates professional education, collaborates with MS organizations around the world, and provides programs and services designed to help people with MS and their families move their lives forward. In 2013 alone, through its home office and 50-state network of chapters, the Society devoted US$145.2 million to programs and services that assisted more than one million people. To move us closer to a world free of MS, the Society also invested over US$48 million to support more than 380 new and ongoing research projects around the world. The Society is dedicated to achieving a world free of MS. Join the movement at http://www.nationalMSsociety.org.
About BeMyDD
Founded in 2010, BeMyDD (Be My Designated Driver) is the nation's largest designated driver service, currently operating in 76 markets in 31 states. This convenient, safe, reliable and affordable alternative transportation service provides a chauffeur at a discounted rate by driving the customer's automobile. Professional, experienced drivers are fully background-screened, interviewed and insured by ByMyDD and wear formal business attire. The company has national partnerships with leading liquor and wine companies such as CÎROC and Brown-Forman to promote social responsibility. To schedule a professional driver, go to BeMyDD.com, call +1 (877) U BeMyDD (823 6933), or download the mobile app. To learn more, visit http://www.BeMyDD.com and follow us on Facebook; LinkedIn; Google+; YouTube, Instagram and Twitter.
###
Contact:
Michael E. Donner
EVP, Chief Marketing Officer
mdonner(at)BeMyDD.com
+1 (561) 406 9090