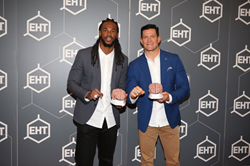 Princeton, NJ (PRWEB) March 03, 2015
Today, Steve Weatherford, current New York Giants punter, and Sidney Rice, former Seattle Seahawks wide receiver, announced the donation of their brains to science during a press conference in timing with Brain Injury Awareness Month. In an effort to raise awareness for the impact of brain injuries and the importance of brain health, Rice and Weatherford spoke of their experiences on and off the field and the need to make brain health a priority to avoid the consequences of injuries and other lifestyle and environmental factors.
The athletes were joined by Dr. Jeffry Stock of Princeton University, whose personal family history of Alzheimer's inspired him to later become a leader in groundbreaking brain health research. As a result, Stock led the discovery of EHT™, a proprietary ingredient extracted from coffee that helps strengthen the brain to protect it from the consequences of aging and inflammation. Dr. David Grand, founder of the Brainspotting method and specialist in the effects of brain trauma, also joined the discussion to offer his tips for improved brain health.
"As a former professional athlete, I've seen just how impactful a brain injury caused on the field can be off the field, even years later," said Rice. "It's now more important than ever to educate others—both athletes and non-athletes—about the importance of brain health, especially since there are ways to help strengthen the brain to protect it against injuries and other factors."
While Rice spoke of his experience with concussions and the impact on his brain, Weatherford touched on making brain health a priority for an enhanced healthy lifestyle.
"For me, being healthy and taking care of my body is one of the most important things in my life —I eat properly, work out daily and push my body to its limits," said Weatherford. "However, it's even more vital to not lose sight of the health of our brains, one of our most vital organs, as we can't afford to not think about when it comes to our overall health."
Rice and Weatherford also offered their support for EHT, an ingredient that both athletes take daily to help strengthen and protect their brains.
Led by the Brain Injury Association of America (BIAA), Brain Injury Awareness Month is recognized each March to raise awareness and education for traumatic brain injuries and the potential for lasting effects.
About EHT™
EHT™ (eicosanoyl-5-hydroxytryptamide) is a patented extract consisting of a naturally occurring mix of bioactive molecules isolated from coffee. The ingredient helps to protect and strengthen neuron structures by preventing damage to tau, an essential brain protein. Neuron structures can weaken due to inflammation caused by head trauma from athletic activity or even aging, poor diet, alcohol consumption and environmental stressors. EHT promotes better cognitive function and overall brain health, improves memory and recall, fortified and strengthens natural brain functions, and increases focus and mental alertness. The result – increased brain performance for a healthy, focused mind.
EHT was discovered in a partnership between Dr. Jeffry Stock, professor at Princeton University and Signum Biosciences, a biotechnology company dedicated to developing innovative dietary supplements for enhancing brain health and promoting better overall health, with research funded in part by the National Institute of Health, the Michael J. Fox Foundation and the Alzheimer's Drug Discovery Foundation.