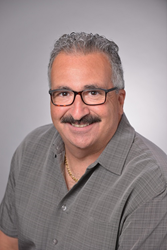 Trumbull, CT (PRWEB) March 03, 2015
Dr. Richard F. Amato is excited to announce the expansion of his practice in order to help combat gum disease in Trumbull, CT. As a periodontist, Dr. Amato feels it is his duty to reach out to the community because gum disease is the most common cause of adult tooth loss. This serious problem affects oral and general health, as well as self-esteem and social wellbeing. Help is possible thanks to the LANAP® protocol, an innovative laser gum surgery. This procedure is an effective means of treating gum disease and restoring gum health.
Without proper treatment, gum disease eventually leads to tooth loss. The majority of adults in the U.S. will suffer the loss of one or more teeth in their lifetime but the prevalence of this problem does not make it any less significant. The upper and lower jaw bones require constant stimulation from tooth roots or implant posts in order to remain healthy. Therefore, after tooth loss, the bone begins to break down. General health also suffers because it is difficult to maintain a healthy diet without a proper chewing surface. Emotionally, those with missing teeth may also experience a drop in self-esteem. All of this is preventable with laser treatment for gum disease in Trumbull, CT.
The LANAP® protocol is the first FDA-cleared laser gum disease treatment. It has already helped thousands of patients with periodontal disease and Dr. Amato is pleased with its positive results. Traditionally, the bacteria that cause gum disease could not be accessed without cutting into the gums due to the fact that the bacteria live between the roots of the teeth and gums in periodontal pockets. With laser gum surgery, however, bacteria can be accessed by sliding the laser tip into the pockets so that the specialized laser can attack the infection at its source, without damaging healthy tissue. In the process, the laser gum surgery actually stimulates the gums to heal.
Those interested in learning more about the LANAP® protocol are welcome to visit Dr. Amato's website or contact his office, Advanced Periodontics and Dental Implant Center of Connecticut LLC, at (203) 712-0917. He encourages those with gum disease in Trumbull, CT, to a schedule no-obligation consultation so he can help them build personalized treatment plans.
About the Doctor
Dr. Richard Amato is a periodontist and dental implant specialist who provides personalized dental care using the most advanced technology for patients in Monroe, Connecticut. He has placed thousands of dental implants since 1989. Dr. Amato earned a DDS degree from Stony Brook University. He then completed a full time multi-year specialty residency and received his Certificate of Proficiency in Periodontics from Eastman Dental Center at the University of Rochester. He belongs to the one percent of dentists in the USA currently providing the first FDA-cleared laser procedure for gum disease treatment. Dr. Amato is the first and most experienced provider of LANAP® therapy in Fairfield County, Connecticut as well as the only Periodontist to provide the Pinhole Surgical technique in CT. To learn more about Dr. Amato and his dental services, visit his website at http://www.connecticutperiodontist.com and call (203) 712-0917.