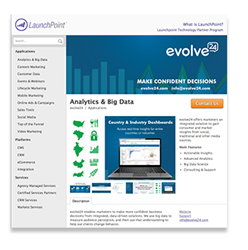 The digital web provides an incredible source for consumer insight.
ST. LOUIS, MO (PRWEB) March 04, 2015
evolve24, an advanced data analytics and insights company, announced today that it has been approved as an Analytics & Big Data solution in the Marketo LaunchPoint Technology Partner Program.
evolve24 offers advanced analytics solutions that enable marketers to make more confident business decisions from integrated, data-driven solutions. The company measures audience perception from multiple data sources – web news, blogs, forums, Facebook, Twitter, academic journals, digital newspapers, and more – and helps its clients apply that understanding to improve product development, campaign effectiveness, message resonance, and more.
LaunchPoint is a one-stop destination for marketers to find and educate themselves about the most innovative technology solutions in the market. The solutions in the program represent a broad range of application categories including content management, video marketing, data & analytics, social and mobile marketing.
"This partnership validates the importance of data-driven insights," said Tracie Gildehaus, vice president of partnerships and innovation, evolve24. "The digital and social web provides an incredible source of consumer insight that evolve24's clients can use to increase sales and avoid risks."
evolve24's LaunchPoint page is available here.
ABOUT EVOLVE24
evolve24 is a data analytics and insights company that measures audience perception to enable clients to make confident business decisions. With bleeding-edge technology and patent-pending analytics, like Opinion, Emotion, Trust, Network Influence and PreCISE™, evolve24 uses big data to derive market and consumer insights, measure program effectiveness and provide anticipatory issue intelligence through innovative research, dashboards and portals. Learn more at evolve24.com or follow @evolve24.