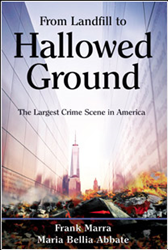 It was clear this became a holy ground, a place of rest for many who would never be recovered, a cemetery without tombstones
Dallas, TX (PRWEB) March 10, 2015
There's no debating that September 11, 2001, is one of the most important and remembered dates in U.S. history. For Sergeant Frank Marra, NYPD retired, what followed his assignment to the Staten Island Landfill, where he helped sift through approximately ten tons of debris being process daily for evidence related to the attacks, will always be an inescapable memory.
Staten Island school teacher and co-author Maria Bellia Abbate joins Marra in writing From Landfill to Hallowed Ground: The Largest Crime Scene in America to take you behind the scenes and into the largest mobile crime scene in history—the Staten Island Landfill, otherwise known as "The Hill." At this location, volunteers, including NYPD officers, spent countless hours meticulously sifting through debris, ash, and remains to find fifty-four thousand personal objects and twelve hundred identities of those who perished.
"It's important to learn about the event, but it is also necessary to take the students beyond that particular day and into the lives of those trying to rebuild a broken city," said Abbate.
A NYPD officer for seventeen years, Marra recounts vivid memories and the sights and sounds of the moments and months after September 11.
"As time passed we realized how many people's ashes and DNA still remain at the Landfill. It was clear this became a holy ground, a place of rest for many who would never be recovered, a cemetery without tombstones," Marra said.
Marra and Abbate ultimately hope From Landfill to Hallowed Ground becomes not only a historical first-hand reference but an educational tool and aide to those who lost loved ones or who struggle to suppress the harsh memories.
"The book is a must-read for those who were there," says psychologist Richard Levenson Jr. "It is an excellent resource for undergraduate and graduate students, as well as researchers in mass disasters, terrorism, psychological trauma, and the resulting stressors."
For more information on this vivid and—until now—untold story resulting from September 11, 2001, visit http://www.FromLandfillToHallowedGround.com.
###
Media inquiries please contact Gavin Rhoades at Gavin.Rhoades(at)BrownBooks(dot)com or Cathy Williams at Cathy.Williams(at)BrownBooks(dot)com