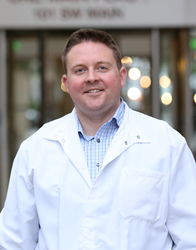 For me, it's just extremely gratifying to help give patients the smile they deserve.
Portland, Oregon (PRWEB) March 05, 2015
Dr. Aron Geelan, of Geelan Dental Care in downtown Portland, recently announced the launch of his new website designed to educate patients about general dentistry, dental implants and sedation dentistry.
One of Dr. Geelan's primary areas of focus includes dental implants and implant supported dentures. One out of every 10 people living in the United States are missing one or more teeth. Unfortunately, many patients choose to live with missing teeth, which can cause difficulty eating, a low self-esteem and pose a threat to overall oral health such as jaw pain, bone loss or shifting teeth.
"There is a saying, 'Ignore your teeth and they'll go away.' Many patients avoid going to the dentist for several reasons, which often leads to poor dental health, including gum disease and periodontal disease. Overtime, this can cause tooth loss to occur. Dental implants are a wonderful solution for patients that have missing teeth. Made of medical-grade titanium, dental implants are placed within the jawbone and then given time to fuse/heal. Once healed, a permanent crown is connected to the implant, resulting in a tooth that looks and feels completely natural," says Dr. Geelan.
Geelan Dental Care also offers implant-supported dentures for patients that are missing all of their teeth, but don't do well with the sore gums, denture adhesives or the embarrassing moments associated with removable dentures. This revolutionary procedure gives patients a permanent fixed solution that feels and looks just like natural teeth. Best of all, implant supported dentures can allow patients to eat their favorite foods again such as corn on the cob, an apple or even a steak.
"For many patients, removable dentures are not a reasonable long-term solution. They can cause sore gums and make certain foods difficult to taste and chew. For patients missing their teeth, implant-supported dentures are the next best thing to the teeth we were born with. For me, it's just extremely gratifying to help give patients the smile they deserve," says Dr. Geelan.
Dr. Geelan is a graduate of honors from Oregon Health Sciences University Dental School. He also has served for three years in the National Health Service Corps doing public health dentistry. Dr. Geelan has seen many patients who were in need of dental implants. The impact of sedation dentistry and dental implants is immeasurable. Each patient experiences an improvement to his or her quality of life when they maintain good oral health.
For more information, visit http://geelandental.com/ or call 503-223-1322.
Geelan Dental Care
101 SW Main, Suite 290
Portland, OR 97204
Phone: (503) 223-1322
Fax: (503) 221-6915
http://geelandental.com/