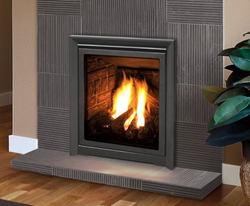 As homeowners seek to renovate or remodel these historic homes, the Q1 Insert gives them a way to convert to gas that was not available before
Denver, CO (PRWEB) March 05, 2015
Home & Hearth Outfitters partnered with leading fireplace manufacturer, Enviro, to develop a new fireplace insert specifically sized to fit the small Victorian fireplaces commonly found in Denver's older homes. The Enviro Q1 Gas Fireplace Insert was created due to a high demand and interest from homeowners with inoperative coal fireplaces. Before the Q1 insert, solutions to modernize small coal fireplaces were very limited and usually resulted in entire reconstruction of the chimney or covering the fireplace up completely. The new, innovative inserts have received a great response from local homeowners.
"Many homes in Denver built in the late 1800's to the 1920's are still used and are in high demand for their historic appeal," Pete Dines, President of Home & Hearth Outfitters said. "As homeowners seek to renovate or remodel these historic homes, the Q1 Insert gives them a way to convert to gas that was not available before. This is the first of its kind to allow homeowners to maintain the original purpose of their fireplaces, by taking an old dilapidated and sometimes dangerous fireplace and updating it to a tested and listed furnace rated heater and fireplace…This winter was the first season for the Q1 and the demand was phenomenal. We definitely had more interest than anticipated."
Starting in the late 1800's, coal stoves were the primary choice for heating a home. They were usually taller than wide and very shallow, and not designed for ventilation to burn wood. By the 1920's, most cities had access to public utilities, including natural gas and electricity -- which resulted in the decline of coal use in American homes. While homeowners remodeled these historic homes throughout the years, converting a coal fireplace to modern day technology was deemed problematic, since the chimneys were not built to support wood burning and a gas insert solution was not commonly available in these smaller sizes.
The Enviro Q1 insert is the long-awaited solution to historic home renovation. It's beautiful, clean faced gas fireplace brings modern design in an array of different stylistic options from minimal to contemporary. The Q1 uses a high definition log set, tray burner with glass or a coal burner to fit any homeowner's stylistic taste.
For more information on Denver-based Home & Hearth Outfitters and the Enviro Q1 Gas Fireplace Insert, go to http://www.homeandhearthoutfitters.com or call 303-722-6698.
About Home & Hearth Outfitters
Home & Hearth Outfitters has been Denver's premiere choice in high-end kitchen appliances, gas fireplaces, and outdoor furnishings for over 20 years. A leading fireplace retailer and service provider in Denver and the Vail Valley, Home and Hearth Outfitters offers a full line of fireplaces, installation services and custom design in addition to outdoor kitchens and barbecues. Representing the leading fireplace brands and outdoor living products including Jotul, Town and Country, Ortal, Viking, Swiss Grill, Marquis and Enviro, they have two showroom locations in Colorado at 286 S. Logan St. Denver, CO 80209 and in the Vail Valley at 5 Murray Road, Edwards CO 81632.