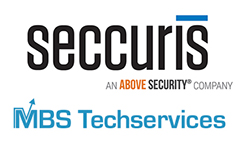 We look forward to working with MBS Tech to guard their clients against evolving sophisticated cyber threats.
Winnipeg, Man. (PRWEB) March 04, 2015
Seccuris Inc., a leading North American cybersecurity consulting and managed services firm, has signed MBS Techservices, a Vancouver-based IT infrastructure and security company, as a Channel Partner to offer the OneStone™ Information Assurance Portal in British Columbia and Alberta, Canada.
Developed by Seccuris, OneStone is a managed security service that provides reliable 24x7 threat monitoring, vulnerability management, business risk assessments, asset classification and tracking, and comprehensive reporting. Backed by a professionally-staffed Security Operations Center, OneStone helps clients make effective risk-based decisions at a time when threats are more prominent than ever. Plus, compared to the costs of organizations maintaining a 24x7 in-house security department, including staffing, training, maintenance, and infrastructure, OneStone is just a portion of the price.
"This new partnership, along with the multi-factor authentication expertise we've built up over the years, will make MBS Tech the go-to managed security partner for the West Coast," said David J. Morrish, President of MBS Techservices.
"This partnership will give us a strategic advantage in Western Canada," said Tim Vanderhyde, Director of Sales and Technology Partners for Seccuris. "We look forward to working with MBS Tech to guard their clients against evolving sophisticated cyber threats, and helping them stay compliant with rapidly changing industry and government regulations."
For more information on the security benefits of OneStone, visit seccuris.com/onestone.
ABOUT SECCURIS
Seccuris is the North American leader in Enterprise Security Architecture and Information Assurance Integration. Since 1999, the company has been providing clients with unparalleled business-driven solutions through security and risk management consulting and managed security services. Seccuris is the unique alternative because it assesses each client's entire enterprise, not just their technology, and then tailors the exact cybersecurity program they need to make effective risk-based decisions at every level. For more information, visit seccuris.com.
ABOUT MBS TECHSERVICES
Based in Vancouver, B.C. Canada, MBS Techservices provides cost-effective solutions through on-demand expertise and support in IT infrastructure and security. They are also the world's first Value Added Reseller to operate as a Community Contribution Company (C3), an innovative socially focused business model that allows entrepreneurs to pursue social goals by investing 60% of the profits into community enterprises and charities. To learn more, visit mbstechservices.com.