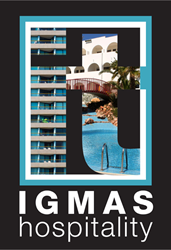 Los Angeles, California (PRWEB) March 05, 2015
IGMAS Technologies today confirmed a strategic relationship with SLS Hotels whereby IGMAS, through its Hospitality IT services group will provide SLS Hotels with a host of IT services including its unique brand of Hospitality Helpdesk services - 24x7. The IGMAS ITIL-centric Service Center has been providing IT services on behalf of the SLS Las Vegas Hotel and Casino for eighteen months and is specifically staffed with hospitality/gaming-trained engineering resources. This US-based engineering helpdesk compliments IGMAS' other strategic IT services for which the SLS Hotel and Casino has engaged IGMAS including Project Management, Technical Engineering, and Advanced Operations Administration. In addition to the SLS Las Vegas Hotel and Casino efforts, the SLS Hotels under development in The Bahamas and New York will also enjoy IGMAS' Hospitality services project services to help them achieve a successful opening.
"We are very pleased and excited about this strategic partnership with SLS Hotels. Adding such a high-energy group of hotels to our expanding hospitality service offerings is a great honor", said Michael Breindel, President of IGMAS Technologies. "The SLS brand is synonymous with quality service and we are flattered that this prestigious group has partnered with IGMAS to provide our services to their organization."
IGMAS Technologies, Inc. is an infrastructure guidance, management, and support organization specializing in high-quality enterprise solutions including strategic consulting, project management, national engineering services, and comprehensive IT support. For more information, visit http://www.igmas.com or contact IGMAS Technologies, Inc. at 877-609-8324.