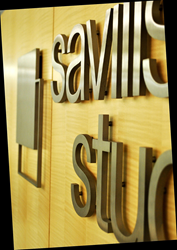 We are confident that Tiffany's brilliant leadership skills, industry knowledge and solid understanding for the firm's values and unique culture, coupled with the market expertise and impressive capabilities Matt and Ryan demonstrate, will be a success.
Phoenix, AZ (PRWEB) March 10, 2015
Savills Studley, the leading commercial real estate services firm, announces the opening of its first-ever Phoenix office. The firm signed a lease at Anchor Centre East (2231 E. Camelback Road). Tiffany Winne, Senior Vice President at Savills Studley will lead the firm's operations in Phoenix. Winne hired Ryan Bartos and Matthew Coxhead, both prominent and respected industry professionals within Phoenix's commercial real estate community, to assist her with the growth and development of Savills Studley's presence in the Phoenix market. The launch marks the firm's 26th location within the United States.
"We have relationships with many Phoenix-based companies and look forward to working with them more closely. We have a solid track record of transaction work in that market and only look forward to growing it now with a dedicated presence. We are excited about Phoenix due to its growing reputation as a hot spot for technology, advertising, media and information firms and talent, as well as its strength among more traditional space users like law firms and corporations," says Savills Studley Chairman and CEO Mitch Steir.
Winne and the Phoenix team's primary focus will be on coverage of the Phoenix metro area and select domestic and global portfolios. In addition, the team will recruit top talent locally throughout 2015 and beyond. The Phoenix office will benefit from the support of Savills Studley's stellar resources worldwide, including best-in-class market research, financial analysis and services delivery expertise. As part of London-headquartered Savills plc, the premier global real estate service provider, the Phoenix team can tap into the global network of more than 27,000 professionals across 600 locations.
"We are thrilled to entrust Tiffany with the expansion of our tenant representation practice into Phoenix, a very promising market with a growing appetite for our specific services and expertise," says Michael Colacino, president of Savills Studley. "We are confident that Tiffany's brilliant leadership skills, industry knowledge and remarkable understanding for the firm's values and unique culture, coupled with the market expertise and impressive capabilities Matt and Ryan demonstrate, will prove to be a winning formula for Phoenix."
Tiffany Winne
Throughout her real estate career, Winne has executed transactions totaling over 10.8 million SF with a value of over $3.4 billion across 20 broad industries in 30 major markets domestically and internationally. Her career has been devoted solely to representing tenants and helping them turn real estate into a strategic advantage. She serves clients across a wide breadth of industries, including financial services, law, media and technology, health care, and not-for-profits. Tiffany has developed an expertise not only in managing transactions, but also in analyzing and operating complex portfolios in office industrial and retail sectors for both leasing and sales. She has developed a reputation for solving the complex real estate challenges of organizations spanning many geographies and property types. She is a dedicated advisor to a broad spectrum of business types where sophisticated business acumen is highly valued and critical to project success.
Winne is a past recipient of Crain's Chicago Business "40 under 40" top young executives and is often quoted in a range of publications, including Businessweek, the Chicago Tribune, Crain's Chicago Business, Commercial Property News, Illinois Real Estate Journal, and Real Estate Forum. Winne earned a Bachelor of Arts from Middlebury College and a Master of Arts from St. Johns College. She also served in the United States Peace Corps. Throughout her career, Winne has successfully negotiated and secured leases on behalf of major corporate tenants including Time, Inc., AllianceBernstein, Integrys, Morton Salt as well as national law firms including Faegre Baker Daniels, Jackson Lewis and Drinker Biddle & Reath.
"I am honored and excited for the opportunity to open the firm's Phoenix office alongside Matt and Ryan. We look forward to offering the Phoenix market the highest caliber of tenant-focused services," says Winne.
Matt Coxhead and Ryan Bartos
Bartos and Coxhead come to Savills Studley from Cushman and Wakefield, where they were both Directors for the Tenant Advisory Practice. As partners, they have completed over 2.6 million square feet of lease deals, totaling over $261 million in lease consideration. With nearly two decades of experience combined, Coxhead and Bartos have assisted corporations both locally and nationally, in every stage of the real estate process, including relocations, consolidations, subleases, acquisitions, and dispositions utilizing strategic planning, demographic and site consulting, project management, and post-occupancy services. Their dedication to providing accurate market knowledge and outstanding client service has landed them solid client relationships with Weebly and Zenefits in addition to working with companies, such as Learnvest, iFactor Consulting, Tuft & Needle, El Dorado Holdings and Encore Capital.
"Joining Savills Studley is a tremendous opportunity for us and we feel extremely fortunate to work alongside someone with the reputation and experience that Tiffany brings with her," says Coxhead. Bartos adds "We could not be happier with the support and resources we can now provide our clients and the Phoenix market, through Savills Studley's trusted and unmatched tenant representation platform and leadership."
About Savills Studley
Savills Studley is the leading commercial real estate services firm specializing in tenant representation. Founded in 1954, the firm pioneered the conflict-free business model of representing only tenants in their commercial real estate transactions. Today, supported by high quality market research and in-depth analysis, Savills Studley provides strategic real estate solutions to organizations across all industries. The firm's comprehensive commercial real estate platform includes brokerage, project management, capital markets, consulting and corporate services. With 25 offices in the U.S. and a heritage of innovation, Savills Studley is well known for tenacious client advocacy and exceptional service.
The firm is part of London-headquartered Savills plc, the premier global real estate service provider with over 27,000 professionals and over 600 locations around the world. Savills plc is listed on the London Stock Exchange (SVS.L).
For more information, please visit http://www.savills-studley.com and follow us on Twitter @SavillsStudley and LinkedIn.