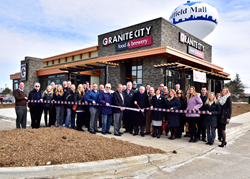 Minneapolis, Minnesota (PRWEB) March 10, 2015
There's a new addition to the Schaumburg restaurant scene with the recent grand opening of Granite City Food & Brewery, located on Plaza Drive near the Woodfield Mall.
Granite City Food & Brewery, a popular polished casual restaurant with an on-site brewery, now has three locations in the Chicagoland area, including Schaumburg, which opened its doors late last week; Naperville, which celebrated a successful grand opening in Oct. 2014 and Orland Park.
With its warm, inviting and modern design, Granite City Food & Brewery's expansive interior features a spacious and comfortable dining room, four-sided modern, full-service bar and three private dining areas, as well as an outdoor patio. The on-site brewery, with award-winning hand crafted micro-brews, is visible from the main dining and bar areas. The restaurant also showcases an open kitchen featuring chef developed, handcrafted made-from-scratch cuisine, including innovative signature entrees, flatbreads and more.
Granite City Food & Brewery has been experiencing significant growth over the past several years, driven in part by restaurant-goers' enthusiastic acceptance of its new prototype design, which opened in Troy, Michigan in 2012.
Including Schaumburg, there are now 32 Granite City Food & Brewery restaurants located throughout the Midwest. Rob Doran, CEO of Granite City says the company is pleased with the restaurants' continued success and plans for three additional restaurants are scheduled to open in 2015 –-- two in the Detroit area (slated for late spring and fall) and one in Washington, D.C. (slated for late spring).
In addition, Granite City owns a second brand, Cadillac Ranch All American Bar & Grill, with locations in Indianapolis, Miami, Minneapolis, Pittsburgh and the D.C. area.
About Granite City
Granite City Food & Brewery commenced operations in St. Cloud, Minn., in June 1999 and has grown to include 32 restaurants in 13 states. Granite City has won awards nationwide for Best Restaurant, Best Brunch, Best Patio, Best Beer, Best Martini, Best Burger, and more, including the prestigious Nation's Restaurant News Hot Concept Winner. Granite City is passionate about creating fresh menu items from scratch and uses its patented brewing process to deliver the best brews.
###