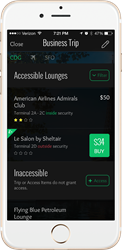 San Francisco, CA (PRWEB) March 05, 2015
LoungeBuddy, the only single resource for travelers to discover, book and access airport lounges around the world, and Information Engineering Group, Inc. (IEG), developers of technology solutions for airline and airport customer tracking loyalty systems, today announce their partnership allowing all travelers the ability to instantly book access to Le Salon by Sheltair in Paris-Charles De Gaulle Airport (CDG) and the CrossRacer Lounge Ezeiza in Buenos Aires-Ezeiza Airport (EZE) directly from the LoungeBuddy mobile App using Apple Pay or any major credit card.
"IEG provides seamless customer service solutions for their clients, and we're very excited to team up to offer instant mobile lounge bookings through their lounge management system. This partnership allows all travelers the opportunity to experience the excellent facilities provided by IEG's lounge partners," said LoungeBuddy founder and CEO, Tyler Dikman.
The landmark partnership extends the functionality of IEG's robust AIMS passenger tracking solution, making it possible for their airport lounge partners to monetize available excess capacity while maintaining control over passenger flow. The deal will also help drive additional exposure, allowing IEG's partners to market their lounges to a global traveler base using the LoungeBuddy App.
Now available to all passengers regardless of carrier, class of service, or affinity membership, Le Salon by Sheltair and the CrossRacer Lounge Ezeiza Lounge both offer a vast array of premium amenities to enhance the travel experience for business and leisure travellers alike. These include a wide range of complimentary snacks, self-serve soft and alcoholic beverages, free unlimited Wi-Fi, comfortable seating, daily newspapers and magazines, TVs, and much more.
"LoungeBuddy's forward thinking approaches towards private airport lounge access are an integral solution to any modern traveller. Our partnership with LoungeBuddy at EZE and CDG will add an additional layer of ancillary benefits to airport lounge providers in an ever competitive market." said Michael Di Corpo, Managing Director, IEG Corp.
Travellers departing from Paris-Charles De Gaulle (CDG) Terminal 2D and Buenos Aires-Ezeiza (EZE) will now be able to purchase lounge access directly from their smartphone and access an exclusive airport lounge in less than 60 seconds.
About LoungeBuddy
LoungeBuddy is the only single resource for travellers to discover, book, and access airport lounges around the world. Hundreds of thousands of members use LoungeBuddy to discover their perfect airport oasis and improve their travel experience.
LoungeBuddy covers over 2,000 airport lounges in more than 600 airports worldwide. The free LoungeBuddy App is available on iOS and Android. To learn more about LoungeBuddy, visit http://www.loungebuddy.com/.
About Information Engineering Group, Inc. (IEG)
IEG is the leading developer of complete tracking and insight solutions for airport lounges around the world. Our flagship AIMS (Access Information Management System), ANS (Ancillary System), and Lounge Club programs have led their respective industries for over two decades.
IEG's approach is to understand the whole travel story and deliver on the commitment to enhance the customer's travel experience beyond the traditional point "A" to "B" touchpoints.
MEDIA CONTACTS:
Brent Griffith
VP of Marketing at LoungeBuddy
E-mail: brent(AT)loungebuddy.com
Rick Di Corpo
Director, Creative & Business Development at IEG
E-Mail: rdicorpo(AT)ieg-america.com