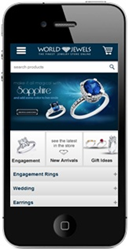 Our mobile traffic has been increasing dramatically in the last few years and we are delivering a top-tier design and user experience, to take maximum advantage
Boston, MA (PRWEB) March 04, 2015
World Jewels, a leading online provider of jewelry and gems, today announced the launch of a new, dedicated mobile commerce site.
Loaded with features, including customization options, the new mobile commerce site is custom-designed from the ground up, to deliver the same jewelry-building features and functionality that makes the standard World Jewels website so powerful, all in a mobile-specific package.
The buyers and merchandisers for World Jewels are known for their mission to obtain the best gems and jewelry from around the world, without sacrificing quality and workmanship. And this ethic now extends into the mobile context.
World Jewels saw an increasing percentage of traffic coming from smartphones and is dedicated to embrace an omnichannel approach, so their loyal customers can shop for gems and jewelry whenever and wherever they happen to be, with the device they are on, in that moment.
"We are very excited about the new mobile site," said World Jewels Vice President of Operations Simon Morovati. "Our mobile traffic has been increasing dramatically in the last few years and we are delivering a top-tier design and user experience, to take maximum advantage".
The new mobile site features the entire product line and all functionality from the ecommerce site is carried over. By using a deep, integrated methodology for the build, Unbound Commerce treats mobile as a distinct channel, while allowing all pertinent product data to flow seamlessly and securely from the current ecommerce platform.
About World Jewels
World Jewels purchases and imports the highest quality diamonds, gold and silver from around the world. They are one of the only online jewelry stores that manufacture their own jewelry in 14k gold, 18k gold and platinum. World Jewels specializes in semi-mounts for engagement rings, solitaire rings, wedding bands and sets, bracelets, earrings, necklaces and pendants. They also carry a wide selection of precious gem stones in different sizes and shapes, loose or set in 14k/18k gold or platinum mountings. For additional information, please visit http://www.WorldJewels.com.
About Unbound Commerce
Unbound Commerce is the industry's #1 provider of mobile commerce solutions for online retailers. Unbound's unique, low-IT hybrid approach means an ecommerce integration can be leveraged to deliver mobile commerce, tablet commerce, commerce-enabled apps, and in-store engagement. Unbound also equips each mobile site with marketing tools to help retailers and brands bridge online and offline consumer touch points, at point of sale. Unbound has built and deployed dedicated, integrated mobile and tablet sites for Miller Coors, Cali and York, Patrick James, Sears, Monster Cables, Shoe Carnival, Rockport, Finish Line, FLOR, Adam and Eve, Joma Shop, The New England Patriots, Cavenders, and over 400 other retailers. For additional information, please visit http://www.UnboundCommerce.com.