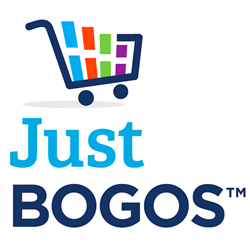 Our Users will now receive word of every BOGO from Publix, Winn-Dixie and Sedano's in an easy to read list so they never miss out on any great deals and have the opportunity to stock up on their favorite grocery items for maximum savings
Ft Lauderdale, Florida (PRWEB) March 11, 2015
JustBOGOS, the free service for automated BOGO (Buy One, Get One) alerts, announced a new convenient feature now available exclusively to its Florida Users: Weekly ALL BOGO Alerts.
Weekly ALL BOGO Alerts provide Users a quick and convenient "at-a-glance" summary of ALL BOGO's available each week from Publix, Winn-Dixie and Sedano's. Users can choose to receive Weekly BOGO Alerts from all 3 supermarkets or they can select the specific supermarket(s) where they shop. Users can view their list of BOGO's at anytime thanks to the mobile friendly website and quick reading emails.
Users can easily save up to 50% on their groceries, thanks to the Weekly ALL BOGO Alerts which complement the popular Custom BOGO Alerts which previously debuted when the startup first launched mid 2014.
"We surveyed our existing Users, received great feedback which included suggestions for some new features, and we responded," says Jason Taub, Founder of JustBOGOS. "Our Users will now receive word of every BOGO from Publix, Winn-Dixie and Sedano's in an easy to read list so they never miss out on any great deals and have the opportunity to stock up on their favorite grocery items for maximum savings."
Members who choose to receive the Weekly ALL BOGO Alerts have the option to take their BOGO alerts a step further by adding specific items or brands to their virtual JustBOGOS shopping Cart so they can receive custom alerts when items in their Cart become BOGO. Between the Weekly ALL BOGO Alerts and Custom Alerts, users choose exactly what kind of money saving alerts they wish to receive.
JustBOGOS makes it effortless to save money without having to clip coupons or trying to keep up with what's on sale each week. Once you set up your account for the first time, no additional effort is required - Consider your savings on auto pilot! It's a completely free service. Sign up and start saving today.
Watch the 1-Minute JustBOGOS Explainer Video on YouTube to see exactly how it works.