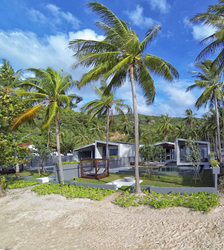 Koh Samui, Thailand (PRWEB) March 05, 2015
Mandalay Samui Developments competed against a number of high-profile developers in the Asia Pacific to receive the awards. All award winners have been invited to attend a presentation dinner at the Shangri-La Hotel, Kuala Lumpur, Malaysia on the 7-8th May 2015. If Mandalay Beach Villas is named the highest scoring winner, the development will be entered into the International Property Awards final competition and compete against other regional winners for the coveted title of "World's Best."
"We are extremely honoured to have been selected as an International Property Awards winner, in two different categories." said Tibor Szedlak, Founder, Managing Director of Mandalay Samui Developments. "The awards validate what we've been working to achieve here at Koh Samui, Thailand… against a backdrop of unerring modern style and sophistication, beyond the design-led, classy environs to create an unforgettable contemporary tropical experience, in harmony with Koh Samui's magnificent natural beauty."
Mandalay Beach Villas is a collection of beachfront pool villas in contemporary modern design. The secure and gated luxury estate offers the ultimate in island accommodation, matching exclusivity with privacy. Facing the white sandy expanse of Laem Noi Beach, right next to Four Seasons Resort Samui and backed by lush palm stands, each of the exclusive villas has its own private courtyard, giving approximately 350-500 square meters of living space, with 17-35m beach frontage each, on land plots ranging from 800 to 1600 square meters.
The best of beachfront villa lifestyle, Mandalay Samui Developments provides financing and guaranteed rental programs as well. Each client has the option to participate in a Rental Management Program that has been created for the exclusive owner as an investment property.
These properties embody the best of luxury living in Thailand. The Koh Samui market has a high demand for luxury villas and with just three units available they will not last long.
For further information on Mandalay Beach Villas and Mandalay Samui Developments:
Head Office: (Appointment Only) 1/35 Moo 6, Bophut
Boonjumnong Modern Apartments & Office Space
Koh Samui, Surat Thani
84320, Thailand
Contact Name: Tibor Szedlak (Founder, Managing Director)
Tel: +66 (0) 85 797 0477
Email: perfectliving(at)mandalaybeachvillas(dot)com
Websites: http://www.mandalaybeachvillas.com, http://www.mandalaysamui.com