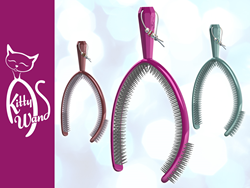 KittyWand breaks the mold of traditional cat brushes! Field-tested and cat-approved, we're confident this new and innovative cat brush will be well received by cats and their humans!
Santa Barbara, CA (PRWEB) March 05, 2015
Inspired by the natural shape of a Willow branch, KittyWand is a new and innovative cat brush. As demonstrated in the Kickstarter Campaign video, KittyWand delivers a full brush experience:

Ergonomic and easy to use, KittyWand's patented design flexes to brush and massage both sides of your cat
KittyWand's soft inner bristles penetrate and cling to fur
Its outer detail brush is ideal for delicate areas like your cat's face.
The Kickstarter Campaign offers the following KittyWand colors: White, Raspberry, Misty, Marsala, Silver and Gold. Pledges range from $29 for the White KittyWand to $250 for the Limited Edition Gold Flake KittyWand.
https://www.kickstarter.com/projects/kittywand/introducing-kittywand