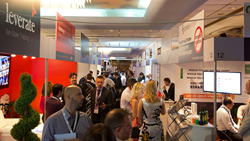 This year we are celebrating the 4th year of running the iFX EXPO and we have even higher expectations about this event. Gal Ron, CEO of CONVERSION PROS
(PRWEB) March 06, 2015
The new website offers quick access to an interactive floor plan, as well as extensive links to past events for clients who are keen on finding out more about the expo, visitor numbers and photographs or videos taken at our past shows.
The iFX EXPO is a series of events focused on the retail finance sector, which includes but is not limited to the forex and binary options industry. The expo aims to connect leading service providers with brokers, IB's and affiliates, along with leading reporters from influential publications.
According to Gal Ron, CEO of CONVERSION PROS: "This year we are celebrating the 4th year of running the iFX EXPO and we have even higher expectations about this event.
We are anticipating a significant rise in visitor numbers following last year's success and the recent expo in Hong Kong. Our aim from the beginning was to connect the industry and help provide a platform for networking within the industry of global brokerages and service providers.
Each year we have surpassed the previous year's goals and our feedback from our clients is testament to this."
In 2014, the iFX EXPO International was hosted in Cyprus and peaked at just over 1,500 registered attendees and 70 exhibitors. In January this year at the iFX EXPO Asia, we saw visitor numbers rise to over 2,500.This year we expect to achieve an even greater turnout of approximately 2,500 attendees and over 80 exhibitors.
The iFX EXPO International is an opportunity for anyone within the financial industry to connect and explore business opportunities under a professional, proven and business friendly setting. One of the key highlights are the workshops and dedicated speaking panels, which focus on learning from the industry's leading speakers and will cover a wide range of industry related topics, packed with current trends.
This is also the perfect venue for both firms who are already established and those interested in starting up a Forex /CFD or Binary Option brokerage. At this event, you will find the latest knowledge and know-how from industry experts on topics such as beginning to end set up which will include: regulatory requirements, company formation, technology, liquidity, risk management, staff and marketing expertise.
The iFX EXPO International is also well known for organizing networking events which are exclusive to registered attendees of the expo. This year's events will be hosted in exciting locations, packed with surprises.
For further information on attending the expo and to take advantage of the sponsorship and exhibition opportunities that may still be available, please visit our website: http://www.ifxexpo.com