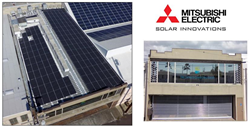 Hi-Power Solar installed 161 Mitsubishi PV panels that should cover all of our electrical usage for years to come.
Honolulu, Hawaii (PRWEB) March 23, 2015
With the federal tax credit set to sunset at the end of 2016, businesses in Hawaii are hurrying to purchase commercial solar systems. The State of Hawaii Tax Credits do not have a sunset date at this time. Hi-Power Solar completed the commercial PV project for the Limtiaco Consulting Group, a civil and environmental engineering firm in December, 2014.
"As Civil and Environmental Engineering Consultants, TLCG believes the environment is a precious resource and should be cherished and respected. In 2013, TLCG purchased our building and immediately looked into making our new home environmentally friendly. TLCG was recognized as a 2014 Hawaii Green Business with the assistance of Hi-Power Solar. Hi-Power Solar installed 161 Mitsubishi PV panels that should cover all of our electrical usage for years to come. Ron, Cruz and the rest of the Hi-Power Ohana were open and responsive throughout the entire bidding, permitting, construction and warranty process. It has been a pleasure working with Hi-Power Solar and we thank them for helping TLCG become better stewards of the environment," says Ian Arakaki, PE, Principal, TLCG.
The Mitsubishi solar panels were selected by TLCG primarily because of their precision manufacturing, corrosion resistant design, cost effectiveness and reliability. Mitsubishi is a 100 year old company with the worlds only 100% lead-free construction. Coupling the Mitsubishi panels with ABB's high wattage micro-inverters created a system that runs considerably cooler and requires fewer solar panels.
"Micro-inverters have several advantages over string inverters. They allow you to control the panels' output individually and offer module level Maximum Power Point Tracking (MPPT), reducing efficiency loss in a variety of challenging conditions," says Cruz Romero, General Manager, Hi-Power Solar.
Hi-Power Solar encourages businesses in Hawaii to take advantage of the federal and state tax credits before the federal sunset date. Residential customers should also take advantage of this even if it is only to install a solar hot water system. Hi-Power Solar even offers its commercial clients' employees attractive discounts on residential PV, solar hot water systems, solar pool heaters and battery (Grid-Tied and Off-Grid) systems.
---------------------------------
Hi-Power Solar is a fully licensed contractor (ABC license #30844)and is an authorized dealer of Mitsubishi, SunPower and Panasonic panels. Hi-Power Solar also has access to many other brands of panels that can be brought into the island of Oahu.
The Limtiaco Consulting Group, Inc. is the consulting entity established by Mr. Felix B. Limtiaco, a former Director of the Department of Wastewater Management of the City and County of Honolulu. Now in its seventeenth year of operations, TLCG has grown to include an outstanding blend of complementing civil and environmental engineers, water resource planners (including wastewater reuse), environmental planners, certified construction managers, certified wastewater treatment plant operators, GIS analysts, and CAD/graphic artists. The company is powered by eleven licensed civil engineers registered in the State of Hawaii and has five engineers who are LEED Accredited for New Construction by the Green Building Certification Institute. The company's clients include State, County, and Federal agencies, private-sector developers; privately-owned utilities; architects; and other consulting firms.
###